We ask
An entrepreneurial attitude

A customer centric focus

Collaborative skills
We offer
Challenging work

Excellent secondary employment conditions

In charge of personal development
Why ABN AMRO?
Building a future proof bank

A diverse and inclusive culture

Extensive internal career opportunities
Operations Officer
At a glance
The local Operations Services team is responsible for the execution and support (internally or externally) of all local back-office payments related tasks in a country (and other countries supported in case of a hub). The operations and support should be delivered according to the service levels agreed in the SLA. Transparency and measurability should further contribute to the maximum satisfaction of the business.
Quantitative information
• The Operations team consists of 3 FTE's and sits within the business area of TBH (Transaction Banking Hub).
• Supports the clients and services of the Transaction Banking Hub for all cash management products.
• Overseeing daily work loads of Operational tasks ensuring the team meet required SLA's.
• To continually look for cost efficiencies and ways to best improve working practices within the department and discuss opportunities with COO.
• Key Stakeholder management within the Financial Crime/Compliance to ensure that all elements of the cash management financial crime work is adhered to.
• Support other business lines such as Compliance, Risk, Asset Based Finance and enhance collaboration amongst those areas
Your job
The Operations Officer has the following responsibilities:

• Timely processing of all GBP cheque processing for clients' accounts held within the Transaction Banking Hub.
• Action all client queries in a timely manner ensuring a high level of service is delivered at all times.
• Process all new, amendment and cancellation requests in connection with Standing Orders and Direct debits.
• Execution of Money Market Deposits as per client requests.
• Collation and processing of all monthly fees that require processing to clients' accounts.
• Timely execution of all unpaid payment items, including cheques, direct debits and any other payment methods.
• Execution and production of all bank audit letters ensuring these are produced in a timely fashion.
• Ensure that all AML (Anti Money Laundering) checks are actioned in a timely manner ensuring any unusual/suspicious transactions are reported via the official documented channels
• Look for continuous ways to improve processes and task ensuring effectiveness of the team at all times.
Your working environment
ABN AMRO is an enterprising bank with a primary focus on Northwest Europe. We serve clients in the retail, private banking and corporate banking sectors. We are also present internationally in a number of specialist activities, such as Corporate and Commercial Banking, Asset Based Finance and Clearing.

At ABN AMRO we have a clear purpose: Banking for better, for generations to come. The shift towards sustainability is one of the most important challenges of our time. Supporting our clients at times that matter has always been our role and our responsibility. Together, we aim high and work towards lasting relationships that are relevant and responsible, both now and in the future. We want to be the bank that leads the way.

Our strategy goes far beyond financial value: we want to accelerate the transition to sustainability. We do this by supporting and advising our clients in order to facilitate their sustainability shift. Our commitment to clients, employees, investors and society calls for clear direction, focus and dedication.

We concentrate on our three strategic pillars:

• Support our clients' transition to sustainability
• Reinvent the customer experience
• Build a future-proof bank

Our strategy requires a culture of working together and permanent learning. It's only with this mindset that we unleash the best in ourselves to deliver a high standard of performance. ABN AMRO's culture is the catalyst for the evolution in which we find ourselves: our people are imaginative, trust each other and do just that little bit extra to help clients.

ABN AMRO UK is part of the Corporate Banking business line and operates the following businesses in the UK:

• Corporate and Institutional Banking which includes Corporate Banking, Clearing, Global Markets - Sales & Trading and Financial Institutions
• Commercial Banking which includes Asset Based Finance and International Desk, which provides transactional banking services

Our business lines are supported by a number of functions such as Risk, Compliance, Legal, IT, Finance (Including Tax), Business Management and Human Resources. We currently employ approx. 380 people in the UK.
Your profile
• Good relevant product skills.
• Good communicator and team player.
• High level of attention to detail.
• Planning and organisation skills.
• Understanding and awareness of Operational Risk Management.
• Client focused.
• Business related knowledge in Banking Operations procedures, processes, products and accounting principles.
• Good IT knowledge in: relevant banking software and MS Office.
• Good knowledge of related activities-, local services and functions organisation.
• Good knowledge of the bank's regulatory requirements (Compliance).
• Proven relevant product- and/or banking back office experience.
• Relevant work experience.
• Experience or interest and understanding of working in an cross-border environment.

What we offer
Joining ABN AMRO means working on meaningful projects. Projects that have an impact on our clients. Working with a wide range of people with different backgrounds, opinions and ideas. In the UK, in the Netherlands or elsewhere in our international network. We offer an environment where you will be challenged on a daily basis - professionally as well as on a personal level - so that you can grow to become the professional you want to be.
We have identified that the following types of flexible working may be suitable for this role in principle. Any requests will be determined in line with our Flexible Working Policy:
Type of Flexible Working Likely to be suitable
Remote Working Yes

Interested?
Are you interested? Please apply via the button below.

For more information please contact Niki Champion, Senior Resourcing Partner, UKrecruitment@uk.abnamro.com, +44 203 192 9342.
Wie zijn je collega's?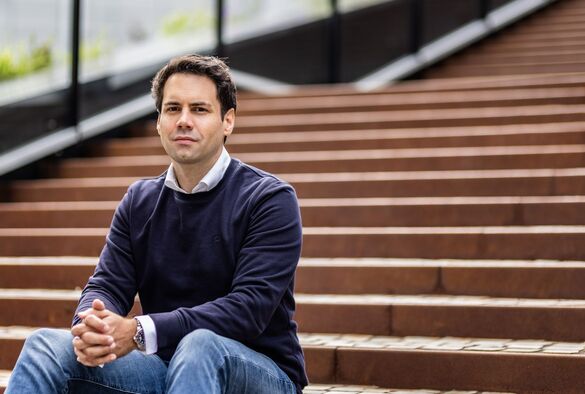 "Al op mijn 29ste mocht ik een Corporate Sales-desk in het buitenland opzetten. Dat is typisch ABN AMRO: je krijgt hier al op jonge leeftijd veel verantwoordelijkheid."
Lees het verhaal
Hoe ziet je sollicitatieprocedure eruit?
1

Reageer online op een vacature
2

Wij beoordelen je CV en motivatie
3

We nodigen je uit voor een interview
4

Daarna volgt mogelijk een assessment
5

Je ontvangt een aanbieding
6

Gefeliciteerd met je baan!
Ben jij uit het juiste hout gesneden?