Full Stack Developer Tikkie
Embark on your Tikkie Journey!
Do you have a passion for working with the latest technology, such as CloudFormation, ECS, Lambda, and CDK? If so, we have exciting projects that will make your heart skip a beat. As a Full Stack Developer, you will be responsible for developing new features, optimizing and refactoring existing code, and ensuring a seamless user experience for over 8 million users! Interested in Tikkie? Then please read on to learn more about our culture and the role.
We are Tikkie
Tikkie is not just an app; it's an integral part of Dutch culture and the leading free finance app in the Netherlands. We started as a start-up initiative by ABN AMRO and have since become a tremendous success, revolutionizing payments in the country with our incredibly easy, fast, and fun payment functionality.
Today, the Tikkie app has evolved into a multifaceted platform, and our company has grown into a scale-up with a dedicated team of over 60 individuals. Together, we strive to transform our customers' needs into scalable products that consistently exceed user expectations.
Tikkie Culture
Our culture is a perfect blend of professionalism and fun. We have an open and transparent environment where collaboration and sharing ideas are encouraged. Our team members are always ready to lend a helping hand, creating a supportive and helpful atmosphere.
Our cultural values of openness, fun, and social connections shape our interactions. Every quarter, we kick-off with a roadmap session to align our goals, followed by engaging team activities such as padel or mario kart tournaments that bring us closer together. It's a time for reflection, planning, and setting the stage for our collective success.
The Role
As a Full Stack Developer, you will be an integral part of one of our scrum teams. Your daily routine will include participating in the daily scrum meetings to discuss the team's progress towards the sprint goal. The team works in 2-week sprints, and during each sprint, you will participate in scrum events such as planning, retro, and demo.
Your primary focus will be on developing and improving our app by working on user stories. You and your team will collaborate on cool features and ensure a seamless user experience. You will also have the opportunity to explore new technologies or frameworks.
In addition to developing new features, you will also focus on optimizing, refactoring, and improving the existing code base. We prioritize this effort to ensure the application's quality. Every week, you will get the opportunity to participate in the Tech Sync meeting with other Full Stack developers at Tikkie. During these meetings, you can learn from your colleagues while also presenting your own ideas and skills.
Check out the requirements to become part of the Tikkie Family:
Experience with micro-services architecture, specifically with AWS (CloudFormation, ECS, Lambda, DynamoDB, SNS & SQS)
Familiarity with JavaScript, Typescript, Spring, NodeJS, and CDK is a plus
Strong communication skills and active participation in meetings
Ability to work well in a team and receive and give constructive feedback
Willingness to challenge the status quo and learn new things
Knowledge of mobile development in this context is a plus
If you are passionate about developing high-quality software and possess these qualifications, we encourage you to apply for this position.
Tikkie Benefits
At Tikkie, we are committed to ongoing innovation and delivering new features to our users, and you will play a pivotal role in achieving this. By joining our team, you can make a real difference and witness the direct impact of your work within the app.
Additionally, we offer:
Competitive monthly salary*
Supplementary benefit budget of 11%, paid out monthly or convertible into fringe benefits such as a mobile phone, bike, wearables, or extra time off.
MacBook Pro and accessories provided for your work.
Hybrid working model**
25 days of annual leave
A remarkable e-NPS score of +71, reflecting our exceptional culture that sets us apart from other tech scale-ups.
Personal development budget of €1,000 per year for self-directed learning
5 "banking for better days" which are days off that you can utilize for personal development or voluntary work.
A fantastic office space with excellent coffee, complimentary soft drinks, and a rooftop terrace offering breath-taking views.
Mobile phone subscription.
Public transportation card tailored to your needs or a monthly travel allowance.
Ergonomic home office setup including an adjustable desk, office chair, and an extra screen or laptop stand.
ABN AMRO-contract and comprehensive pension scheme for a secure future.
* We hire in ABN AMRO scale 9-11. Salary offer is based on experience, skills, and salary benchmark among peers. You can check the salary scales in the CLA https://www.werkenbijabnamro.nl/uploads/Cao_ABN_AMRO_22_24.pdf
** We offer a hybrid working model that allows for a healthy work-life balance. You can choose where you work from. All teams have agreed on, one standard day to be in the office. Some of our team members enjoy the office atmosphere so much that they choose to be there every day. It is up to you.
Interested?
If you are excited about this opportunity, believe you would thrive in our culture, and match the profile, we invite you to join the Tikkie family. Take the next step in your career by applying now! To apply, please submit your resume and a cover letter highlighting your relevant experience and why you would be a great fit for our team. We look forward to hearing from you.
If you have any questions regarding the role, please send them to tikkie_journey@nl.abnamro.com
Equal opportunities for all
The success of our organisation depends on the quality of our people and the ideas that they have. Truly surprising insights and innovative solutions for our clients result from an interplay of cultures, knowledge and experience. Diversity is therefore extremely important to our organisation. To ensure that everyone at ABN AMRO can develop their talents, we encourage an inclusive culture in which all colleagues feel engaged and appreciated.
Disclaimer external recruitment agencies
External recruitment agencies need to have a signed agreement with ABN AMRO BANK N.V., executed by a Talent Acquisition Specialist, when submitting a resume to a vacancy. In addition, a recruitment agency can only submit a resume when invited by a Talent Acquisition Specialist to join the search for a right candidate. All unsolicited resumes sent to us will be considered property of ABN AMRO BANK N.V. In this case, ABN AMRO will not be held liable to pay a placement fee.
Wie zijn je collega's?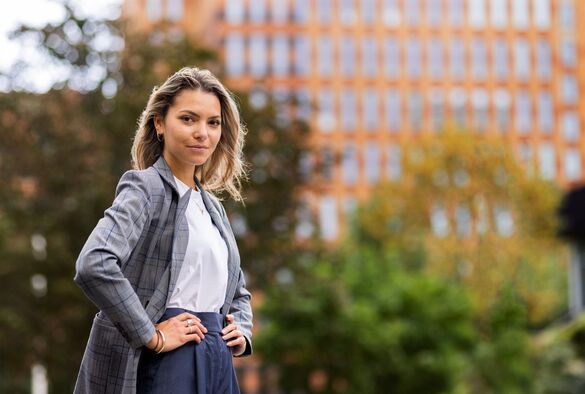 "Veel mensen zijn nog afhankelijk van fysieke bankkantoren. Ook voor hen willen we het mogelijk en makkelijk maken om hun bankzaken online te regelen."
Lees het verhaal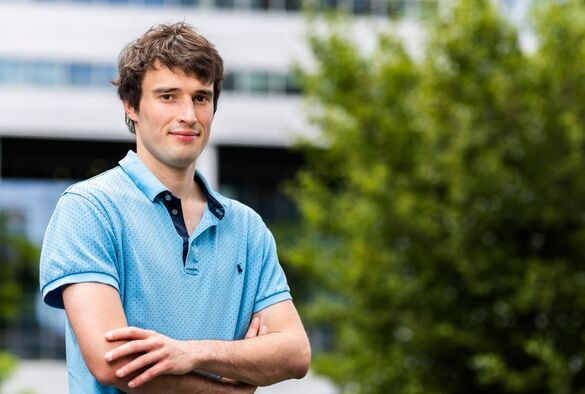 "Er zijn altijd nieuwe systemen en technieken die wij kunnen inzetten bij ons werk. We zijn telkens aan het innoveren, daardoor blijf ik mezelf uitdagen."
Lees het verhaal
Hoe ziet je sollicitatieprocedure eruit?
1

Reageer online op een vacature
2

Wij beoordelen je CV en motivatie
3

We nodigen je uit voor een interview
4

Daarna volgt mogelijk een assessment
5

Je ontvangt een aanbieding
6

Gefeliciteerd met je baan!
Ben jij uit het juiste hout gesneden?