We vragen
0+ jaar

Een motiverende kracht

Een leergierige houding
We bieden
Een uitgebreid arbeidsvoorwaardenpakket

Regie op eigen ontwikkeling
Waarom ABN AMRO?
Bouwen aan de bank van de toekomst

Een diverse en inclusieve cultuur

Veel interne doorgroeimogelijkheden
Internship Corporate Finance (M&A / CSA / ECM)
At a glance
Jumpstart your career by joining the Corporate Finance team at a leading European bank. As an intern you will become part of one of our teams and will work for 4 months in the dynamic surroundings of Corporate Finance. You will assist with presentations, valuations, thorough analysis of companies, business plans, capital markets data and gain insights into various corporate sectors. You will develop an invaluable professional and financial skill-set and build an extensive professional network, whilst enjoying our open culture and international working environment.

What do you see when you envision your next step? We can help you get there. Work on achieving your goals and develop yourself professionally and personally. Tell us your story. We want to hear it!
Your working environment
Our department helps corporates, private equity firms, governments, and financial institutions to reach their strategic goals by combining our in-depth sector knowledge with financial expertise. We advise in the field of Mergers and Acquisitions (M&A), public offers, fairness opinions and valuations, IPOs, equity-linked products and share issuances. We are the market leader in the Benelux, and growing in Northwest Europe.

At ABN AMRO, we use our knowledge, expertise and network to help our clients to achieve their goals. Our clients' interests always come first. We want clients to understand our products, and we sometimes say 'no' if a product involves a risk that is too high for the client. Putting clients' interests first also means communicating in plain language and crafting smart solutions that genuinely make a difference. That is our goal.

You will learn how we provide our clients with innovative sector and product-based solutions to meet their financial needs, by working on financial analyses, in-depth company and industry research, client pitches, and the origination and execution of transactions.
Your profile
Are you ambitious, curious and eager to learn? Are you keen to see different teams and explore how they work together? Do you enjoy working in a team setting and a social environment? Then we are looking for you!

Do you think you're a good fit? Check out your profile:
- University education (Bachelor's or Master degree)
- Relevant extracurricular activities
- Strong motivation to work for ABN AMRO and in Corporate Finance
- Clear motivation for working in the Netherlands
- Excellent communication skills, both verbally and in writing
What we offer
An internship within the ABN AMRO Corporate Finance franchise provides the opportunity to prove yourself in a challenging working environment. We invest extensively in the training and personal development of young talent. For instance, you will have the opportunity to gain financial modelling skills as you will build your own financial statements forecast and DCF model (all with the help of your buddy). We offer "learning on the job" with excellent guidance tailored to your preferences. Our Corporate Finance department is organized across the following disciplines:

Dedicated M&A sector teams,
Capital Structuring & Advisory (CSA)
Equity Capital Markets (ECM)

After an introductory call, you will join one of these Corporate Finance (sub-)teams for 4 months. Fundamental to our internship is that you are part of a team and will be handed a great deal of responsibilities early on. In addition, you are presented with an excellent opportunity to truly get to know our culture and expand your network.
Interested?
We offer a flexible start throughout the year. You can apply throughout the entire year via the button below. Upload your resume, cover letter and grades lists (please merge your resume and grade list in 1 document). If you have questions, please contact Linda Blokdijk at linda.blokdijk@nl.abnamro.com.

Please note that:
Applications without a grade lists will not be taken into account
All applicants must be available for 4 months
Specify your preferred starting date in the cover letter
All required work documents (e.g. Visa for students from outside of the EU) need to be arranged by the candidate
Only applications via the recruitment system will be taken into account.
Equal opportunities for all
The success of our organisation depends on the quality of our people and the ideas that they have. Truly surprising insights and innovative solutions for our clients result from an interplay of cultures, knowledge and experience. Diversity is therefore extremely important to our organisation. To ensure that everyone at ABN AMRO can develop their talents, we encourage an inclusive culture in which all colleagues feel engaged and appreciated.
Disclaimer external recruitment agencies
External recruitment agencies need to have a signed agreement with ABN AMRO BANK N.V., executed by a Talent Acquisition Specialist, when submitting a resume to a vacancy. In addition, a recruitment agency can only submit a resume when invited by a Talent Acquisition Specialist to join the search for a right candidate. All unsolicited resumes sent to us will be considered property of ABN AMRO BANK N.V. In this case, ABN AMRO will not be held liable to pay a placement fee.
Wie zijn je collega's?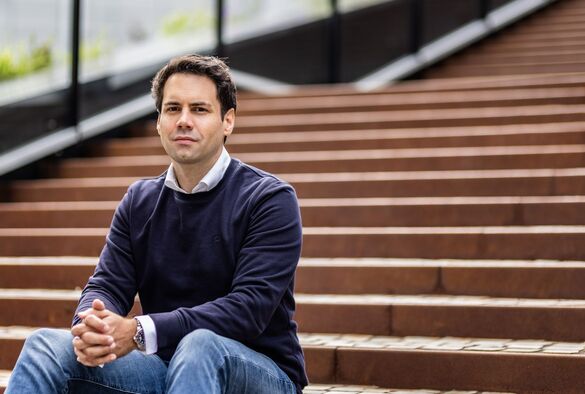 "Al op mijn 29ste mocht ik een Corporate Sales-desk in het buitenland opzetten. Dat is typisch ABN AMRO: je krijgt hier al op jonge leeftijd veel verantwoordelijkheid."
Lees het verhaal
Hoe ziet je sollicitatieprocedure eruit?
1

Reageer online op een vacature
2

Wij beoordelen je cv en motivatie
3

We nodigen je uit voor een of meerdere interview(s)
4

Daarna volgt mogelijk een assessment
5

Je ontvangt een aanbieding
6

Gefeliciteerd met je baan!
Ben jij uit het juiste hout gesneden?