We vragen
5+ jaar

Een klantgerichte visie

Een ondernemende houding
We bieden
€ 4.823 - € 6.890 pm

Een uitgebreid arbeidsvoorwaardenpakket

Regie op eigen ontwikkeling
Waarom ABN AMRO?
Bouwen aan de bank van de toekomst

Een diverse en inclusieve cultuur

Veel interne doorgroeimogelijkheden
Senior STIR Trader
At a glance
Global Markets is the center of expertise for all financial markets' activities and products of ABN AMRO. Global Markets is made up of Equity Capital Markets (ECM), Debt Capital Markets (DCM), Foreign Exchange (FX), Fixed Income & Derivatives (FID) and Strategy & Business Development (S&BD). Fixed Income & Derivatives (FID) department covers the needs of institutional and corporate clients for all derivatives and fixed income products. Clients are large corporates, reserve managers and central banks, pension funds, asset managers, insurance companies, commercial banks and hedge funds. The FID department consist of two commercial teams, FID Sales and FID trading, working together in offering clients our products and solutions by leveraging on its product expertise and client intimacy. The FID Trading Culture mission is: Driven by technology, powered by collaborative people who take ownership and embrace critical thought. Do you want to be part of a leading Benelux based FID Trading team, do you have the ambition to be the best and make it happen? Then we want to hear your story!
Your job
FID Trading has full end-to-end responsibility for pricing & risk management for all derivative and fixed income products. This includes responsibility for pricing models and tooling, management of all risk types, creating and implementing strategies for optimizing our electronic and other distribution channels and adhering to all policies and regulations. As a Senior STIR Trader:

• You are a (strategic) discussion partner for clients and the bank in the field of risk management and STIR trading.
• You can adequately and quickly make the right decisions and execute transactions in (complex) financial products such as bonds, repo's, FX and Money Market instruments, linear and non-linear derivatives.
• You manage and optimize the trading portfolios of the bank from a balanced risk, return and scarce resources perspective.
• You are curious, creative and always looking for the how and why to be in-control. You use data, analytics and other IT-tooling for this.
• You have up-to-date expertise in the field of financial markets, money markets, liquidity and collateral management themes and products, valuation models, risk management and supervisory themes which you use to optimize transaction pricing and (risk) position management.
• You recognize risks, and you take appropriate actions to control their impact
• You work in a team, and you like to collaborate with relevant stakeholders (QA, Research, Treasury, Sales, IT, Grids, Risk and XVA)
• In this role, you are responsible for all STIR and Cross Currency (G5) trading
• In everything you do, you take possible risks, financial results for the bank, sustainability and customer interests into account.
Working environment
Global Markets is a department with highly specialized group of people advising, executing and dealing in financial instruments. The working environment is entrepreneurial, collaborative and complex due to amongst others changing clients' needs, regulations and the impact of technology and data. This means Global Markets needs to be responsive and quick on its feet to adjust in this dynamic environment.
Your profile
We are looking for someone who challenges the status quo and is passionate about financial markets and trading.
• Academic education level
• At least 6-12 years' work experience, preferably in Global Markets, Treasury, Investment or Wholesale Banking
• Experience in systemic trading strategies, collateral and cross currency arbitrage and risk management of (complex) financial and money market products
• Advanced skills in the field of trading systems, pricing and valuation model knowledge, as well as IT tooling (quant development and data analytics), business and regulatory knowledge
• Excellent interpersonal skills, team player and effective stakeholder manager
• Proven client-centric skills
• Self-starter, innovative and curious mindset
We are offering
• Next to the commercial challenge, you will expand you internal and external network of stakeholders.
• Immediately get commercial responsibilities and you will be empowered to act.
• You will be able to expand your network, knowledge and career opportunities.
• Salary for Hay grade 12-13, depending on your experience, based on a 40-hours work week.
• A generous personal development budget for courses and workshops.
• OV card valid in the whole of the Netherlands.
• A good pension scheme.
• 25 days of holidays per year.
• Flexible working hours.
Interested?
If you're interested, please apply via the system. If you have questions on the content of the job, please contact Arif Kallan, Head of Trading Fixed Income & Derivatives, arif.kallan@nl.abnamro.com. We look forward to hear from you.
Equal opportunities for all
The success of our organisation depends on the quality of our people and the ideas that they have. Truly surprising insights and innovative solutions for our clients result from an interplay of cultures, knowledge and experience. Diversity is therefore extremely important to our organisation. To ensure that everyone at ABN AMRO can develop their talents, we encourage an inclusive culture in which all colleagues feel engaged and appreciated.
Disclaimer external recruitment agencies
External recruitment agencies need to have a signed agreement with ABN AMRO BANK N.V., executed by a Talent Acquisition Specialist, when submitting a resume to a vacancy. In addition, a recruitment agency can only submit a resume when invited by a Talent Acquisition Specialist to join the search for a right candidate. All unsolicited resumes sent to us will be considered property of ABN AMRO BANK N.V. In this case, ABN AMRO will not be held liable to pay a placement fee.

Wie zijn je collega's?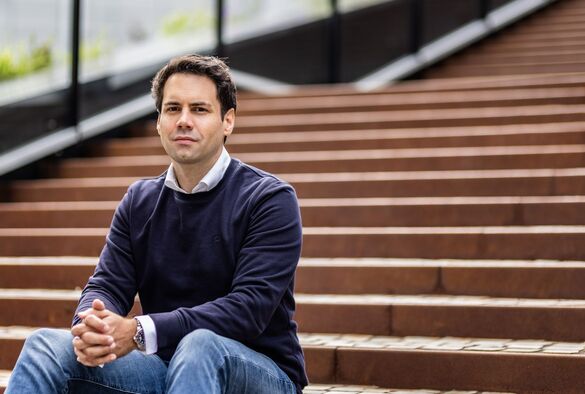 "Al op mijn 29ste mocht ik een Corporate Sales-desk in het buitenland opzetten. Dat is typisch ABN AMRO: je krijgt hier al op jonge leeftijd veel verantwoordelijkheid."
Lees het verhaal
Hoe ziet je sollicitatieprocedure eruit?
1

Reageer online op een vacature
2

Wij beoordelen je CV en motivatie
3

We nodigen je uit voor een interview
4

Daarna volgt mogelijk een assessment
5

Je ontvangt een aanbieding
6

Gefeliciteerd met je baan!
Ben jij uit het juiste hout gesneden?