We vragen
5+ jaar

Goede communicatie vaardigheden

Samenwerkingsgerichtheid
We bieden
Een uitgebreid arbeidsvoorwaardenpakket

Regie op eigen ontwikkeling
Waarom ABN AMRO?
Bouwen aan de bank van de toekomst

Een diverse en inclusieve cultuur

Veel interne doorgroeimogelijkheden
Director Corporate Finance - Mobility & Manufacturing (f/m/x)
At a glance
Are you experienced in Mergers & Acquisition, Corporate Development or Strategy Consulting, and ready to advise companies and investors that are active in the mobility & (capital goods) manufacturing sector? At the ABN AMRO Corporate Finance franchise, we are keen to complement our team with a Director.

Your job
As a Director, you are an essential member of our Corporate Finance Mobility & Manufacturing team. You focus on various subsectors and themes such as (e-)Mobility, Smart Technologies, Energy Transition, Equipment Rental, Technical & Installation Services and Construction.
Key responsibilities include:
• You understand the key fundamentals & drivers in our relevant sub-sectors and themes and you further develop your expertise.
• You are driving the strategic discussions with our clients and you take a leading role in delivering client proposals and pitch presentations.
• You display commercial drive and are keen to further develop your network, by building on existing client relationships and by developing new ones.
• In your frequent client interactions, sustainability topics are an integral part of your strategic dialogue, whereby your intrinsic motivation to address the need for transition plays to our team's strength.
• You closely work together with our internal stakeholders, such as relationship bankers, leverage finance, Equity Capital Markets (ECM) and other product specialists in order to support our longstanding client relationships and proactively bring strategic opportunities.
• You lead your deal team to support the full execution process of a complex sale, acquisition, management buy-out, private placement or disposal of a client. This includes being responsible for all day-to-day project workstreams.
• You closely work together with many colleagues, from M&A or ECM deal teams or – if necessary – other product specialists in order to ensure that timelines and the client's objectives are met.
• As a core member of our team, you contribute to the team's business development activities and you actively facilitate the personal development of our junior colleagues.
Working environment
As a Director you work in the Corporate Finance Mobility & Manufacturing team, which is part of our Corporate Finance franchise within the Corporate Banking department. Our entire corporate finance team consists of circa 65 colleagues and the Corporate Finance Mobility & Manufacturing team has ten positions.
Within our team there is an open and informal atmosphere, and we are open to the opinions, views and cultural background of others. Besides, we are willing to help each other. For instance, our senior members try to facilitate the personal and professional development of our junior members.
Why join ABN AMRO Corporate Finance?
We give you five good reasons to join us:
1) At ABN AMRO Corporate Finance, we offer a unique and integrated approach. By combining independent M&A advice and strong execution capabilities with optimal banking solutions for our broad client base, always linked to sustainability topics such as the energy transition. Our aim is to translate the ambitions of our clients into joint successful transitions or events.
2) We invest in long-term relationships, engage with clients and anticipate on their strategic needs. Our clients highly appreciate our approach and perceive it as convenient, reliable and efficient.

3) An essential factor for our successful track record is sharing sector knowledge within our client base, in order to enhance our strategic dialogue and contribute to the team's growth. Commercial drive and our keen interest to build strategic client relationships are among our shared values.

4) By joining us, you will be able to advise a diverse range of international companies. Our group of key clients consists of a broad range of listed and privately owned companies.
Examples of our recent transactions are:
• The sale of Frames Group to hydrogen disruptor Plug
• The sale of Strukton Worksphere to SPIE
• The IPO of NX Filtration – the world's first green certified IPO on Euronext Amsterdam
• The public-to-private transaction of Neways Electronics by Infestos
• The acquisition of mobility service provider Munckhof by Hansea
• The acquisition of Benteler Distribution by Van Leeuwen Pipe & Tube
5) Working at ABN AMRO means opting to expand your (professional) knowledge. At virtually every level, we will enhance your expertise and open the way for a step upwards or sideways. We will challenge you to use your innovative nature and creativity for the bank of the future. This way, we continue to lead the way in sustainable banking services and we offer our clients a good balance between care and success.

Your profile
You have a keen interest in the subsectors and the themes mentioned above. Besides, you like to take initiative and can originate ideas autonomously, as well as interact directly with clients. Moreover, you combine commercial drive with joy in working together in teams and understand the diverse perspectives of all stakeholders involved. Additionally, you are aware of the ideas and concerns of your colleagues, and you contribute positively to your team.
We like you to meet the following requirements:
• 7 – 10 years of experience within (in-house) M&A, banking, consulting or private equity
• Strong project management skills, with relevant experience in client interaction and taking on a leading role in managing transactions
• Commercial drive, with the ambition to develop existing and new client relationships
• You are able to contributing to a positive working environment by building solid relationships with team members.
• Affinity with ABN AMRO's vision and strategy, linked to sustainability, as well as our service concepts, business processes, organisation, products and services.
• Fluent in English (spoken and written) and an advanced (or beyond) Dutch proficiency (at least spoken).
We see our roles as a permanent learning experience. If you are highly motivated and have the commitment to improve day after day, then we ensure you that you have access to (both internal and external) development programs and we will help you grow in(to) this role.

We are offering
• A market practice salary, including a personal development budget. Classification based on knowledge, experience and equal pay
• An annual discretionary bonus
• A solid pension plan
• Access to our learning academy for continuous learning
• The opportunity to attend international conferences and trade fairs to further deepen your sector knowledge and expand your network
• Possibilities for flexible working hours and to occasionally work from home
• The opportunity to pro-actively work on your vitality and fitness and accelerate your growth, both personally and professionally

Interested?
Please apply or give us a call. Feel free to contact us in case you have any questions, you can directly contact Ronald Quik, Managing Director of Mobility & Manufacturing Corporate Finance at ronald.quik_recruitment@nl.abnamro.com.

Equal opportunities for all
The success of our organisation depends on the quality of our people and the ideas that they have. Truly surprising insights and innovative solutions for our clients result from an interplay of cultures, knowledge and experience. Diversity is therefore extremely important to our organisation. To ensure that everyone at ABN AMRO can develop their talents, we encourage an inclusive culture in which all colleagues feel engaged and appreciated.
Disclaimer external recruitment agencies
External recruitment agencies need to have a signed agreement with ABN AMRO BANK N.V., executed by a Talent Acquisition Specialist, when submitting a resume to a vacancy. In addition, a recruitment agency can only submit a resume when invited by a Talent Acquisition Specialist to join the search for a right candidate. All unsolicited resumes sent to us will be considered property of ABN AMRO BANK N.V. In this case, ABN AMRO will not be held liable to pay a placement fee.
Wie zijn je collega's?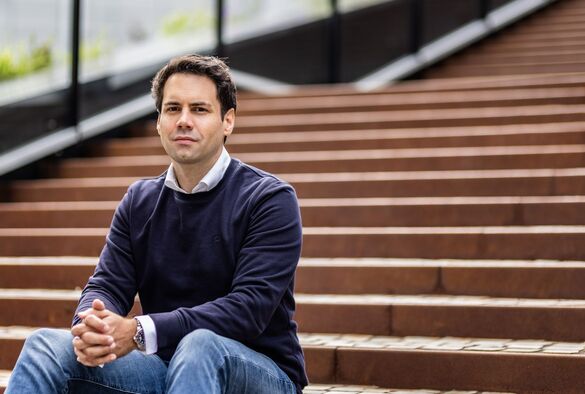 "Al op mijn 29ste mocht ik een Corporate Sales-desk in het buitenland opzetten. Dat is typisch ABN AMRO: je krijgt hier al op jonge leeftijd veel verantwoordelijkheid."
Lees het verhaal
Hoe ziet je sollicitatieprocedure eruit?
1

Reageer online op een vacature
2

Wij beoordelen je CV en motivatie
3

We nodigen je uit voor een interview
4

Daarna volgt mogelijk een assessment
5

Je ontvangt een aanbieding
6

Gefeliciteerd met je baan!
Ben jij uit het juiste hout gesneden?