We ask
An entrepreneurial attitude

A customer centric focus

Collaborative skills
We offer
Challenging work

Excellent secondary employment conditions

In charge of personal development
Why ABN AMRO?
Building a future proof bank

A diverse and inclusive culture

Extensive internal career opportunities
BE - Coverage Banker
Your future employer
ABN AMRO Bank NV Belgium specializes in Private Banking, Corporate Banking and is the market leader in the Diamond sector. From our headquarters in Berchem and Ghent, and offices in Antwerp, Hasselt, Brussels, Courtrai, Bruges and Tournai, we are actively building a modern, innovative and sustainable bank that is close to its clients. We offer innovative products and services to both individuals and companies.

ABN AMRO Bank NV Belgium belongs to the ABN AMRO Bank NV Group, one of the largest banks in the Netherlands. Internationally, we have a leading position in a number of specialized markets such as Private Banking, Corporate & Institutional Banking, Diamond & Jewelry Clients and Wealth Management.

Your future context
ABN AMRO is looking for a seasoned corporate banker with at least 5 to 10 years of relevant experience and a well-established network in Belgium, ideally in the segment of corporates with a turnover of €100 million+. Alternatively, ABN AMRO is also willing to consider experienced product specialists who are willing to broaden their client conversations so as to cover the entire products spectrum, provided they have had a client coverage role in the past and come with a network of relationships. Fluency in Dutch and English is required, with French being a strong plus. Affinity with one or more of the target sectors of ABN AMRO (see above) would be considered a plus as well.
Your future role
The Coverage Banker will have the privilege to represent ABN AMRO in Belgium and to initiate landmark transactions for its target client base, where required with the support of products specialists in Amsterdam. Coverage is set up in sector focused Client Service Teams (CST's), which ensure a seamless multi-disciplinary client approach for Corporate Finance, ECM, CSA, Debt Solutions (Corporate Lending, Acquisition & Leveraged Finance, Global Export & Project Finance, Loan Syndications and Structured Finance), Cash management & Transaction Banking and Global Markets.
The Corporate Banking team will leverage its passion for the target sectors to prepare client propositions. These form the basis for boardroom discussions that will enable the team to proactively drive the client's agenda and identify opportunities. The team will optimise capital allocation, keeping in mind the moderate risk profile of the bank.
Our ideal colleague
The qualified candidate for this important position will need to demonstrate the following critical competencies:
Functional knowledge: as demonstrated by a thorough understanding of the corporate banking (and specifically the share of mind) products and execution process know-how; it is important that the candidate demonstrates an in-depth understanding of the main products to a degree to be in a position to advise clients. Experience in Corporate Finance and Capital Markets would be considered a plus.
Results orientation: candidates will evidence a proven track record of successful activity, will be able to reach stretch goals and will constantly achieve beyond what is expected. ABN AMRO is looking for candidates with an entrepreneurial attitude who are eager to have commercial success and leave their mark. The candidate should be able to work in a team, but also make the difference as an individual.
Collaboration and influencing: candidates will have demonstrated a team approach to solving problems by consulting relevant peers as well as using internal and external networks. The ideal candidate should have demonstrated the ability to lead and direct client teams as a trusted and respected senior level professional on the basis of solid collaboration skills across all parts of the bank.
Other characteristics
The successful candidate shows a stable personality, a passion to excel and will demonstrate the highest level of ethical standards. He/she will fit well with ABN AMRO's "profile of the future employee" (Passion for Client and Sector, Entrepreneurial Spirit, Innovation and Creativity, Focus on Change, Cost Awareness, and Cooperation and Connection).
Our Offer
ABN AMRO attaches great importance to personal development. For us, this also means a great deal of responsibility and scope for entrepreneurship. Of course, this includes a salary in line with your competencies and excellent terms of employment (such as meal vouchers, an extensive group insurance package and flexible working).
Do you recognize yourself in this profile?
Then upload your CV and motivation letter into our platform and we will be in touch.
We look forward to meeting you!

Wie zijn je collega's?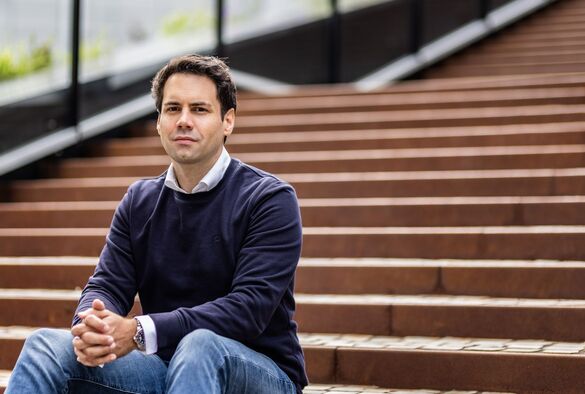 "Al op mijn 29ste mocht ik een Corporate Sales-desk in het buitenland opzetten. Dat is typisch ABN AMRO: je krijgt hier al op jonge leeftijd veel verantwoordelijkheid."
Lees het verhaal
Hoe ziet je sollicitatieprocedure eruit?
1

Reageer online op een vacature
2

Wij beoordelen je CV en motivatie
3

We nodigen je uit voor een interview
4

Daarna volgt mogelijk een assessment
5

Je ontvangt een aanbieding
6

Gefeliciteerd met je baan!
Ben jij uit het juiste hout gesneden?