We vragen
5+ jaar

Samenwerkingsgerichtheid

Analytische skills
We bieden
€ 6.252 - € 8.931 pm

Een uitgebreid arbeidsvoorwaardenpakket

Regie op eigen ontwikkeling
Waarom ABN AMRO?
Bouwen aan de bank van de toekomst

Een diverse en inclusieve cultuur

Veel interne doorgroeimogelijkheden
Regulatory Change Expert - Lending/MCA
At a glance
Do you like to contribute to making the bank's Credit Landscape future proof? Do you want to play an active role in this dynamic changing environment, by using your regulatory or lending expertise on the processes, systems and/or capital impact?
Within Financing Solutions/Strategic Business Development we are looking for (skilled) experts, like you, who have a solid (quantitative) risk management background complemented with a thorough understanding of the regulatory requirements, who would really like to make a difference and use their knowledge and influence to help create a future-proof design for the credit landscape of the entire bank.
Strategic Business Development (SBD) is taking up the challenge of making our first-line lending activities future-proof, by driving the regulatory change agenda and taking on credit risk ownership for Financial Solutions (FS). The goal? To make sure the front office can focus on clients, and to support the bank's strategic initiatives to make these changes effectively.
Your job
The goal of your job? As a Regulatory Change Expert (medior/senior) you will coordinate, investigate and assess how the changes within the credit landscape will impact our Credit Risk / Basel (rating) models. You will support management in making strategic choices by providing insight on materiality of the impact from a regulatory, qualitative and quantitative risk management perspective based on scenarios through performing the Material Change Assessment.
You will be focussing on:
Coordinate and performing the Material Change Assessment for changes triggered by projects and other business as usual changes in the credit process or systems;
Managing and guiding the project (change initiators) and different stakeholders through the required processes and deliverables to ensure a common understanding of the situation and and an effective assessment of the changes;
Assessing the impact of the proposed changes on our rating systems and providing the analysis and documentation which meets the regulatory and ECB standards;
Translating your change descriptions and analysis into a clear and understandable story so that projects and/or senior management can make decisions on them;
Exchanging information and ideas with fellow team members and stakeholders.
Working environment
Financing Solutions (FS) is part of Corporate Banking and is the Credit Engine of ABN AMRO, providing clients from all client segments with the best suited credit solution. FS provides clients with lending exposures EUR >1mln of a credit advice via both standardized as well as expertise driven solutions, and services the corporate lending product portfolio for all exposures from a Grid perspective.
Strategic Business Development is a new and growing department within Financial Solutions, and its role is to ensure lending products and credit processes are compliant with regulations. As part of the Change Execution team, you'll work closely with colleagues in Corporate Banking, Commercial, Processes & Control, Central Portfolio Management and Business Implementation, as well as with departments in the second and third lines of control, such as Risk Management and Audit. You'll also work with the European Central Bank and De Nederlandsche Bank as important stakeholders. Strong stakeholder management and communication are key to achieving our goals.
Your profile
You have a good understanding of lending, regulations, credit risk and change. You understand business and financial risk dynamics and also understand the lending side of banks. You are a strong team player, able to work in multi-disciplinary project teams and thrive in a high-performance environment.
Moreover we are looking for colleagues that meet the following profile:
You have experience with bank policies and regulations in the field of credit risk and RWA calcualtions;
You have experience with credit/lending change management and understanding of consequences and potential impact of changes;
You have an understanding of Business Process Management, IT (architecture), Data Management and/or Regulatory Reporting;
You are a pro-active and entrepreneurial person, are change minded and like to understand root causes;
You have good stakeholder management and communication skills (writing and oral), like to work out descriptions and analysis in detail and like to work in a structured way;
You are able to advice projects and (senior) management based on developed thorough insights and analysis;
You have at least 5-10 years of experience) in Risk Management and/or Lending.
We are offering
The success of our organisation depends on the people who work for us. We believe that teams made up of a mix of cultures, knowledge and experience will contribute to better insights, broader perspectives and innovative solutions. Diversity is therefore vital to our organisation. To be sure that everyone within ABN AMRO can develop professionally and personally, we promote an inclusive environment where all colleagues are valued and respected.
We offer a dynamic and international environment, with colleagues who are passionate about their jobs, and plenty of opportunities to develop personally and professionally. We also offer:
Options for flexible working hours and working from home, including good facilities for remote working;
Opportunities to proactively work on your well-being and fitness;
Competitive salary and solid pension plan;
Personal development budget of €1,000 per year (which can be up till €3000,- within 3 years) and support for your development.
Interested?
Does this sound like something you'd be interested in? Apply online as soon as possible. As this is a new team with a broad range of responsibilities we do understand that it can be helpful to get more information on this role. So if you are you interested to learn more about this vacancy please contact Harm van Dommelen via harm.van.dommelen@nl.abnamro.com or Candice Pelger via candice.pelger@nl.abnamro.com
We cannot wait to meet you.
Equal opportunities for all
The success of our organisation depends on the quality of our people and the ideas that they have. Truly surprising insights and innovative solutions for our clients result from an interplay of cultures, knowledge and experience. Diversity is therefore extremely important to our organisation. To ensure that everyone at ABN AMRO can develop their talents, we encourage an inclusive culture in which all colleagues feel engaged and appreciated.
Disclaimer external recruitment agencies
External recruitment agencies need to have a signed agreement with ABN AMRO BANK N.V., executed by a Talent Acquisition Specialist, when submitting a resume to a vacancy. In addition, a recruitment agency can only submit a resume when invited by a Talent Acquisition Specialist to join the search for a right candidate. All unsolicited resumes sent to us will be considered property of ABN AMRO BANK N.V. In this case, ABN AMRO will not be held liable to pay a placement fee.
Wie zijn je collega's?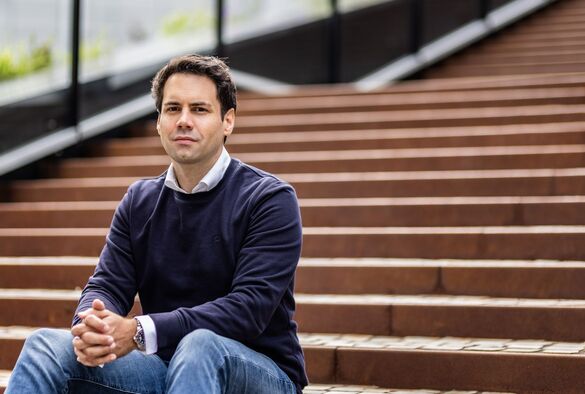 "Al op mijn 29ste mocht ik een Corporate Sales-desk in het buitenland opzetten. Dat is typisch ABN AMRO: je krijgt hier al op jonge leeftijd veel verantwoordelijkheid."
Lees het verhaal
Hoe ziet je sollicitatieprocedure eruit?
1

Reageer online op een vacature
2

Wij beoordelen je CV en motivatie
3

We nodigen je uit voor een interview
4

Daarna volgt mogelijk een assessment
5

Je ontvangt een aanbieding
6

Gefeliciteerd met je baan!
Ben jij uit het juiste hout gesneden?