We vragen
5+ jaar

Samenwerkingsgerichtheid

Een ondernemende houding
We bieden
€ 5.381 - € 7.688 pm

Een uitgebreid arbeidsvoorwaardenpakket

Regie op eigen ontwikkeling
Waarom ABN AMRO?
Bouwen aan de bank van de toekomst

Een diverse en inclusieve cultuur

Veel interne doorgroeimogelijkheden
Associate Director Leveraged Finance
At a glance
Corporate Banking (CB) has a large Benelux and NW European client base. In the Netherlands, we serve clients with revenues exceeding EUR 20 million. In Northwest Europe (Germany, the United Kingdom and Belgium), we serve clients in a variety of sectors with revenues exceeding EUR 100 million (or EBITDA >20m). We are sector-led, offering a wide range of services and products in global markets, lending and advisory.
The product unit Financial Solutions (FS) is the Lending hub of the bank. All Lending products and expertise are clustered in FS and is responsible for the structuring of a variety of lending products for all sectors and segments. Leveraged Finance is a specialised product unit in Structured & Syndicated Lending (S&SL) that also includes teams Syndicated Loan Origination, Export Finance, Project Finance and Financial Institution lending, a group of ~80 product specialists working in one department within FS.
Leveraged Finance arranges structured debt for financial sponsor clients (LBOs) and corporate acquisitions (corporate 2 corporate) and other event related type financing, generally based on a non-recourse or limited recourse financial structure in which the debt sizing, repayment and other terms and conditions are predominantly determined by the visibility of cash flows generated by the company. All financings are sub-investment grade. The Leveraged Finance team has a strong focus on the supporting the transition themes in NW Europe and strong growing companies and consolidators in the sectors of choice and more broad for financial sponsors active in the Netherlands. The Leveraged Finance team has further built an extensive track record in Benelux LBOs together with Structured Finance Syndicate in club and underwritten transactions for CB and CIB clients. Leveraged Finance operates across EMEA out of its offices in Amsterdam and Frankfurt.
In close collaboration with the client coverage teams, other products such as Capital Structuring Advisory, M&A and the Syndicate team and Risk Management, Leveraged Finance is responsible for both origination and portfolio management of Leveraged Finance Transactions (transactions whereby a Financial Sponsor is involved and in some cases also a structured finance solution with >4x debt to EBITDA). Leveraged Finance is the 'first-line of defence' in the credit risk assessment based on (credit) experience and specific client- and sector knowledge.
Since ECB has issued new guidelines on Leveraged Finance the Leveraged Finance team is also responsible for the portfolio management of Financial Sponsor backed Leveraged Finance Transactions for CB clients (currently ~120 clients with EUR 2.5bln of exposure). Portfolio management has become increasingly more important for the Leveraged Finance team and bank as a whole where house in order and licence to operate are crucial for a sustainable growth of the product Leveraged Finance and locking in future deal flow for the team.
Your job
As Associate Director within the Leveraged Finance team you are a priori responsible for building and maintaining strong, sustainable, long-term relationships with Sponsor clients and together in a deal team under supervision of a senior the origination and execution of Leveraged Finance Transactions for new clients and existing clients within the Corporate Bank. Furthermore, you are shared responsible for the management of the portfolio of Leveraged Finance clients (~120 portfolio companies) together with the Leveraged Finance Portfolio team (a team of 6 dedicated Portfolio Managers within the Leveraged Finance team which will build up responsibility for the portfolio as a whole).
Transactions are originated through your network of Financial Sponsors, advisors and that of the Bank through (financial sponsor) coverage and CFCM. You will be in a deal team in charge of the origination and execution of these deals, structuring and executing tailor-made transactions such as LBOs, recaps and refi's. You are responsible for the credit street and obtaining all necessary (internal) approvals and subsequently assisting in the negotiation of the deal with the client and coordination of external advisors (a/o legal counsel, financial advisors and DD providers, etc.). At your level we seek a profile that fits both the mid-market (where deals mainly consist of club deals and/or direct lender deals with debt funds) and the large cap market where we seek to underwrite to distribute in line with the distribution strategy of CIB (e.g. distribute in to the TLB market or to future flow partnerships).
You will form part of a team of 25 Leveraged Finance professionals focused and dedicated on origination and execution. Per transaction you typically work as part of a dedicated deal team tailored to the case at hand, taking into account the required balance in terms of seniority and sector expertise. In close cooperation with the syndicate team you further actively support the 'originate to distribute' strategy of CIB, by supporting the distribution of debt exposures to third parties. After a deal is closed you will be part of Client Service Team (CST), managed by the Coverage Banker to develop the broad commercial relationship with existing clients (portfolio companies of Financial Sponsors). Part of your job is also to coach and develop the more junior staff in the team and to take them along in the entire journey and life cycle of Leveraged Finance as a product. Finally, your position may also include contribution to, where relevant, internal projects such as optimization or innovation projects, regulatory driven projects and other organization-wide initiatives.
Working environment
You will be working directly in a dedicated Leveraged Finance team of in total 30 professionals working in Leveraged Finance of which 25 in Amsterdam (covering UK, Benelux and Nordics) and 5 in Frankfurt (covering the DACH area) with shared responsibility for origination and portfolio management. In addition the team is supported by 2-4 trainees throughout the year rotating for 3-6 months in the team. The team works closely together ensuring that new deals, fully aligned with the 'Banking for Better' strategy of the bank are onboarded and that the portfolio is sound and growing in a sustainable way.
You shall be working in Amsterdam. We work in an open floor space on the Gustav Mahlerlaan, where we have all stakeholders in our vicinity (Client Coverage, Risk, Products, Legal, Sustainability etc). The team has embraced the new way of hybrid working and since the COVID pandemic we also work partly from home. In addition, as a deal principal traveling will be required to meet clients, advisors and bank meetings in various locations in the Netherlands but also e.g. to UK, Belgium, Nordics and Germany.
Your profile
We are looking for a leveraged finance specialist professional with (former) client facing experience and a passion for clients and its profession with a strong network with Financial Sponsors and the following profile:

Educated at university level
Team player
Entrepreneurial and energetic
Minimum 6 years of relevant financial experience of which minimum 2 years related to structuring, execution and portfolio management of leveraged finance and/or other structured corporate financing transactions
Applied knowledge of the credit products and credit processes and capable first line of defence
Evidence of structuring and negotiation skills (structuring and execution of tailor made financing solutions)
Ability to develop to a trusted advisor to Financial Sponsor clients and management teams
leadership skills to manage deal teams and various internal stakeholders in a competitive processes
Strong affinity with LBOs and Financial Sponsor clients and the Leveraged Finance market
Experience with legal documentation (LMA) and (financial) due diligence and challenging business cases and modelling
Professional level of English and Dutch (in speaking, writing and reading)
We are offering
We offer you a challenging and international environment. You will work with colleagues with passion for the job and who have a high standard for performance. You will be offered an excellent opportunity to develop yourself personally and as a professional in a dynamic office space in Amsterdam and with the flexibility to work from home or other locations. We encourage client contact and an outgoing mentality driven by our purpose 'banking for better, for generations to come. At ABN AMRO, we use our knowledge, expertise and network to help our clients within and outside the Netherlands achieve their goals based on responsible decisions. Our clients' interests always come first. We want clients to understand our products, and we sometimes say 'no' if a product involves a risk that is too high for the client. Putting clients' interests first also means communicating in plain language and crafting smart solutions that genuinely make a difference. That is our goal.
We are offering:
•            The opportunity to be the best you can be and lots of room to grow both personally and professionally
•            Possibilities for flexible working hours and work from home are negotiable. We offer good facilities for remote working.
•            The opportunity to pro-actively work on your vitality and fitness
•            A personal development budget of EUR 1.000 per year
•            An annual public transportation pass
•            A solid pension plan
Interested?
Does this sound like something you'd be interested in? Send us your application as soon as possible. To find out more, contact Franck de Lange frank.de.lange@nl.abnamro.com (MD, Head of Leveraged Finance) or anybody in the Leveraged Finance team. We look forward to meeting you.
Equal opportunities for all
The success of our organisation depends on the quality of our people and the ideas that they have. Truly surprising insights and innovative solutions for our clients result from an interplay of cultures, knowledge and experience. Diversity is therefore extremely important to our organisation. To ensure that everyone at ABN AMRO can develop their talents, we encourage an inclusive culture in which all colleagues feel engaged and appreciated.
Disclaimer external recruitment agencies
External recruitment agencies need to have a signed agreement with ABN AMRO BANK N.V., executed by a Talent Acquisition Specialist, when submitting a resume to a vacancy. In addition, a recruitment agency can only submit a resume when invited by a Talent Acquisition Specialist to join the search for a right candidate. All unsolicited resumes sent to us will be considered property of ABN AMRO BANK N.V. In this case, ABN AMRO will not be held liable to pay a placement fee.
Wie zijn je collega's?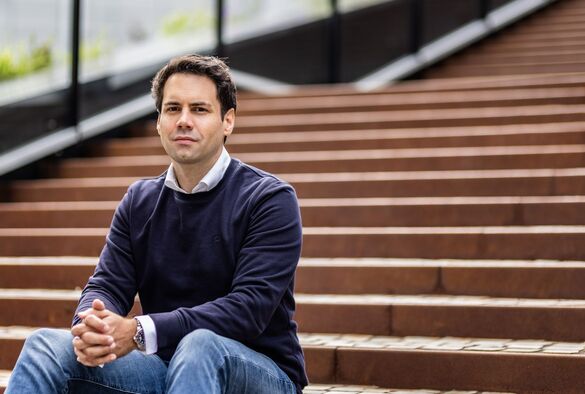 "Al op mijn 29ste mocht ik een Corporate Sales-desk in het buitenland opzetten. Dat is typisch ABN AMRO: je krijgt hier al op jonge leeftijd veel verantwoordelijkheid."
Lees het verhaal
Hoe ziet je sollicitatieprocedure eruit?
1

Reageer online op een vacature
2

Wij beoordelen je CV en motivatie
3

We nodigen je uit voor een interview
4

Daarna volgt mogelijk een assessment
5

Je ontvangt een aanbieding
6

Gefeliciteerd met je baan!
Ben jij uit het juiste hout gesneden?