We vragen
5+ jaar

Een klantgerichte visie

Analytische skills
We bieden
€ 6.408 - € 9.155 pm

Een uitgebreid arbeidsvoorwaardenpakket

Regie op eigen ontwikkeling
Waarom ABN AMRO?
Bouwen aan de bank van de toekomst

Een diverse en inclusieve cultuur

Veel interne doorgroeimogelijkheden
Financial Restructurer
At a glance
Are you ready to join a dynamic client - facing team of specialists that work with (international) clients that are in financial distress? Assessing different scenario's and ultimately finding the best solutions for our client and the bank? Are you capable to stand your ground in challenging negotiations, convince multiple stakeholders of your vision, lead deal teams and strike the right balance between diverging interests to ultimately ensure a feasible and sustainable new credit structure for distressed clients? Then you might find your match within Financial Restructuring & Recovery.
Your job
The Restructuring team is part of FR&R 'Expertise'. Our goal is to improve the risk profile of the client while maintaining the relationship and ultimately return a performing client to the regular commercial teams of our bank.
As a senior restructurer you analyse the current situation, determine the strategy & action plan for a client and present your view to the credit committees. You conduct negotiations with all involved internal & external stakeholders and implement the deal. Thereby you work closely with your internal deal team and external professional advisors.
Financial restructuring entails a wide range of possible outcomes and therefore requires in depth knowledge of amongst other: credit structuring, (private) equity and/or M&A and legal. This all requires strong negotiation skills, and a fair level of project/process management skills.
Next to the responsibility towards all client related processes, it is expected from a Senior Restructurer to lead the internal dealteam, and coach other colleagues involved from FR&R.
Working environment
FR&R 'Expertise' consists of three teams:
1. Restructuring: Restructuring of (international) clients that are in financial distress.
2. Recovery: guide the process to exit of clients, both consensual as non-consensual, and provide a "plan B" alternative for restructurings. Includes Secondary Sales practice, whereby secondary markets are explored to sell distressed debt.
3. Specialised Finance: team of (equity) specialists, focusing on alternative (debt to equity) instruments in restructurings in order to minimalize credit losses for ABN AMRO and to create value for all stakeholders involved and eventually also benefit from potential upside after implementation of a 'debt to equity' swap or distressed M&A.
Our FR&R department has a client base of appr ~200 clients and 55 FTE, numbers are very much dependent on the economic cycle. The purpose of FR&R is to guide clients through rough times towards a sustainable future. We focus mainly on distressed clients with an exposure of > EUR 5m, being clients from (mainly) Corporate Banking, Wealth Management (International), Asset Based Finance (international) and Leveraged Finance.
FR&R is located at the Gustav Mahlerlaan in Amsterdam. Depending on your client portfolio, you might need to travel abroad. To ensure that everyone at ABN AMRO can develop their talents, we encourage an inclusive culture in which all colleagues feel engaged and appreciated.
Your profile
We are looking for a professional with a thorough experience in corporate credit structuring and who:
• Is able to draft and implement creative and solution-oriented action plans within FR&R policy parameters
• Can bring together multiple stakeholders with conflicting interests
• Capable of leading internal dealteams

Requirements:
• Master in business economics (or comparable and substantial financial/economic knowledge)
• At least 6-8 years of relevant working experience in structuring and execution of financing solutions
• In dept knowledge of credit structuring, risk analyses, financial modelling, legal credit issues
• Experience with LMA documentation, M&A, and/or Equity solutions is preferred
• Excellent interpersonal skills
• Able to act in stressful situations
• Strong interpersonal and negotiations skills
• Capable of coaching more junior colleagues
• Excellent in speaking and writing in Dutch and English
We are offering
An inspiring and dynamic working environment in which you will work with various (international) stakeholders and where your vision and approach will make a difference. You will have an unique opportunity to be part of a divers team of driven professionals who work together in teams creating value and an optimal solution for our clients and our bank. We encourage people to show courage, experiment and learn from mistakes. Time pressure is not unusual. The job however offers a lot of freedom and self- responsibility. FR&R offers a wide range of hard (postgraduate course in insolvency law is mandatory) and soft skill trainings.
We are offering:
•            The opportunity to be the best you can be and lots of room to grow both personally and professionally
•            Possibilities for flexible working hours and work from home are negotiable. We offer good facilities for remote working.
•            The opportunity to pro-actively work on your vitality and fitness
•            A personal development budget of EUR 1.000 per year
•            An annual public transportation pass
•            A solid pension plan
Interested?
Are you interested? Then please respond to this vacancy. For additional information you may contact Cathérine Zijlstra, Head Financial Restructuring, catherine.zijlstra@nl.abnamro.com
Equal opportunities for all
The success of our organisation depends on the quality of our people and the ideas that they have. Truly surprising insights and innovative solutions for our clients result from an interplay of cultures, knowledge and experience. Diversity is therefore extremely important to our organisation. To ensure that everyone at ABN AMRO can develop their talents, we encourage an inclusive culture in which all colleagues feel engaged and appreciated.
Disclaimer external recruitment agencies
External recruitment agencies need to have a signed agreement with ABN AMRO BANK N.V., executed by a Talent Acquisition Specialist, when submitting a resume to a vacancy. In addition, a recruitment agency can only submit a resume when invited by a Talent Acquisition Specialist to join the search for a right candidate. All unsolicited resumes sent to us will be considered property of ABN AMRO BANK N.V. In this case, ABN AMRO will not be held liable to pay a placement fee.
Wie zijn je collega's?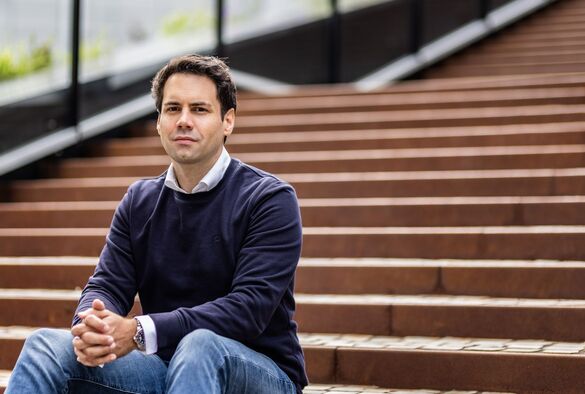 "Al op mijn 29ste mocht ik een Corporate Sales-desk in het buitenland opzetten. Dat is typisch ABN AMRO: je krijgt hier al op jonge leeftijd veel verantwoordelijkheid."
Lees het verhaal
Hoe ziet je sollicitatieprocedure eruit?
1

Reageer online op een vacature
2

Wij beoordelen je CV en motivatie
3

We nodigen je uit voor een interview
4

Daarna volgt mogelijk een assessment
5

Je ontvangt een aanbieding
6

Gefeliciteerd met je baan!
Ben jij uit het juiste hout gesneden?