We vragen
5+ jaar

Een klantgerichte visie

Passie voor je vakgebied
We bieden
€ 4.213 - € 6.019 pm

Een uitgebreid arbeidsvoorwaardenpakket

Regie op eigen ontwikkeling
Waarom ABN AMRO?
Bouwen aan de bank van de toekomst

Een diverse en inclusieve cultuur

Veel interne doorgroeimogelijkheden
UX Designer Tikkie
Embark on your Tikkie journey!
Embark on your Tikkie journey!
Hey, you! Yeah, you! Are you a UX designer who's passionate about building amazing products? Then we want you to join our team!
As part of our Design team, you'll be creating fast and simple designs, in the typical tikkie style! And you are the go-to person for developers and product owners with questions about designs. You'll work closely with them to ensure that our platform is easy to use and visually appealing. Whether it's discovery sessions, gathering user feedback, design sprints or pushing the final pixels ready for delivery, you'll always be working on something exciting.
If you're ready to be part of a fun and talented team that's building products people love, we invite you to apply! Keep reading to learn more.
We are Tikkie
Tikkie is not just an app; it's an integral part of Dutch culture and the leading free finance app in the Netherlands. We started as a start-up initiative by ABN AMRO and have since become a tremendous success, revolutionizing payments in the country with our incredibly easy, fast, and fun payment functionality.
Today, the Tikkie app has evolved into a multifaceted platform, and our company has grown into a scale-up with a dedicated team of over 70 individuals. Together, we strive to transform our customers' needs into scalable products that consistently exceed user expectations.
Your job
Made it this far? And still excited? Then please take a look at the requirements and responsibilities of the position to see if we're a match made in heaven:
Requirements:
You're a passionate designer who's got preferably a degree in Design (HBO or WO) and 6+ years of experience, or a compelling story on why you are the perfect fit for the role.
You can create visually stunning and user-friendly interfaces that align with our design systems and branding guidelines effortlessly.
You're a pro at collaborating with cross-functional teams, developers, and stakeholders, and you keep communication open.
You enjoy tackling design challenges and coming up with innovative solutions that make users happy.
You're open to taking feedback from users, adjusting your designs to meet project requirements, and keeping up with the latest industry trends.
You have an impressive portfolio that showcases your skills in user-centered design, problem-solving, and creative thinking.
You can speak English & Dutch fluently.

Responsibilities:
You'll be translating our visual identity into visual content to create great experiences for our users and brands.
You'll advocate for user-centered design principles within the organization, emphasizing the importance of empathy and accessibility in all design decisions.
You'll present design concepts and solutions to stakeholders, clearly explaining your choices and incorporating feedback to achieve alignment and create amazing designs.
You'll help design and contribute to our Design System to ensure a cohesive look and feel across all products and platforms.
You'll be testing prototypes and collecting feedback to optimize our platform for the best user experience.
You keep on learning and stay up-to-date with the latest design trends and technologies to continuously improve our products.
Tikkie Culture
Our culture is a perfect blend of professionalism and fun. We have an open and transparent environment where collaboration and sharing ideas are encouraged. Our team members are always ready to lend a helping hand, creating a supportive and helpful atmosphere.
Our cultural values of openness, fun, and social connections shape our interactions. Every quarter, we kick-off with a roadmap session to align our goals, followed by engaging team activities such as Padel or Mario kart tournaments that bring us closer together. It's a time for reflection, planning, and setting the stage for our collective success.
Tikkie Benefits
At Tikkie, we are committed to ongoing innovation and delivering new features to our users, and you will play a pivotal role in achieving this. By joining our team, you can make a real difference and witness the direct impact of your work within the app.
Additionally, we offer:
Competitive yearly salary ranging from €3,956 to €5,652 based on a 40 hour workweek, including holiday allowance.
Supplementary benefit budget of 11%, paid out monthly or convertible into fringe benefits such as a mobile phone, bike, wearables, or extra time off.
MacBook Pro and accessories provided for your work.
Hybrid working model*
25 days of annual leave
A remarkable e-NPS score of +71, reflecting our exceptional culture that sets us apart from other tech scale-ups.
Personal development budget of €1,000 per year for self-directed learning
5 "banking for better days" which are days off that you can utilize for personal development or voluntary work.
A fantastic office space with excellent coffee, complimentary soft drinks, and a rooftop terrace offering breath-taking views.
Mobile phone subscription.
Public transportation card tailored to your needs or a monthly travel allowance.
Ergonomic home office setup including an adjustable desk, office chair, and an extra screen or laptop stand.
ABN AMRO-contract and comprehensive pension scheme for a secure future.
* We offer a hybrid working model that allows for a healthy work-life balance. You can choose where you work from. All teams have agreed on, one standard day to be in the office. Some of our team members enjoy the office atmosphere so much that they choose to be there every day. It is up to you.
Interested?
If you are excited about this opportunity, believe you would thrive in our culture, and match the profile, we invite you to join the Tikkie family. Take the next step in your career by applying now!
To apply, please submit your resume and a cover letter highlighting your relevant experience and why you would be a great fit for our team. We look forward to hearing from you. In case you have any questions in regards to this role, you may send an email to tikkie_journey@nl.abnamro.com
Equal opportunities for all
The success of our organisation depends on the quality of our people and the ideas that they have. Truly surprising insights and innovative solutions for our clients result from an interplay of cultures, knowledge and experience. Diversity is therefore extremely important to our organisation. To ensure that everyone at ABN AMRO can develop their talents, we encourage an inclusive culture in which all colleagues feel engaged and appreciated.
Disclaimer external recruitment agencies
External recruitment agencies need to have a signed agreement with ABN AMRO BANK N.V., executed by a Talent Acquisition Specialist, when submitting a resume to a vacancy. In addition, a recruitment agency can only submit a resume when invited by a Talent Acquisition Specialist to join the search for a right candidate. All unsolicited resumes sent to us will be considered property of ABN AMRO BANK N.V. In this case, ABN AMRO will not be held liable to pay a placement fee.
Wie zijn je collega's?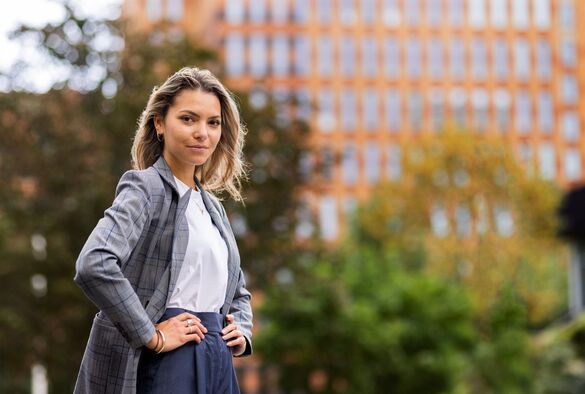 "Veel mensen zijn nog afhankelijk van fysieke bankkantoren. Ook voor hen willen we het mogelijk en makkelijk maken om hun bankzaken online te regelen."
Lees het verhaal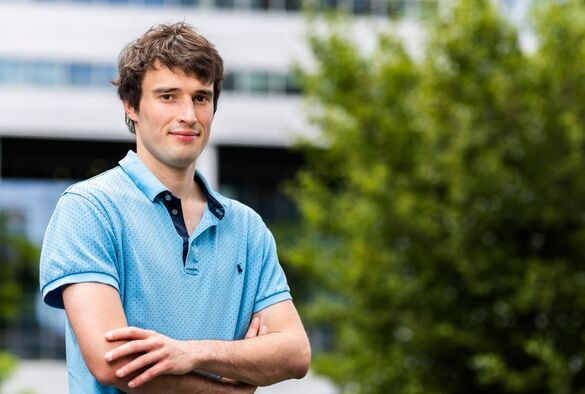 "Er zijn altijd nieuwe systemen en technieken die wij kunnen inzetten bij ons werk. We zijn telkens aan het innoveren, daardoor blijf ik mezelf uitdagen."
Lees het verhaal
Hoe ziet je sollicitatieprocedure eruit?
1

Reageer online op een vacature
2

Wij beoordelen je CV en motivatie
3

We nodigen je uit voor een interview
4

Daarna volgt mogelijk een assessment
5

Je ontvangt een aanbieding
6

Gefeliciteerd met je baan!
Ben jij uit het juiste hout gesneden?