We vragen
5+ jaar

Een klantgerichte visie

Een ondernemende houding
We bieden
€ 6.408 - € 9.155 pm

Een uitgebreid arbeidsvoorwaardenpakket

Regie op eigen ontwikkeling
Waarom ABN AMRO?
Bouwen aan de bank van de toekomst

Een diverse en inclusieve cultuur

Veel interne doorgroeimogelijkheden
Senior Fixed Income & Derivative Sales
At a glance
Do you have the entrepreneurial spirit to drive best in class offerings, intelligence and services for our most prominent institutional investors? Tell us your story. We are curious! If you're already good, we'll make you even better. That's a promise. So seize this opportunity to develop into the professional you aspire to be.
Your job
When it comes to Fixed Income and Rates products, your market intelligence, trade ideas and solutions exceed our clients' expectations. For effective execution and daily operations you act as the linking pin with internal departments. On top of that, you help deliver the Fixed Income and Rates strategy for the region. Your drive, ideas and client focus make us a force to be reckoned with. And it is you who takes the initiative to drive new offerings that will keep ABN AMRO at the forefront.

In order to be successful you collaborate with internal departments such as Fixed Income and Rates Trading, Debt Capital Markets (DCM), Legal & Compliance, XVA Desk and the Financial Institutions Group (FIG). You are the key to spot cross-sell opportunities for all of these counterparts.
The Fixed Income Sales role will Focus on building a sustainable client relations and client satisfaction by growing the number of active clients with Fixed Income Sales and deepening the relationship with existing clients.
The Fixed Income Sales, originates new deals and is involved in the overall sales process for new and existing clients.
Engages in acquisition and designs new business developments plans; translating Markets strategy in action; aimed at maintaining and expanding the market share.
Generates revenues from existing clients as well as prospects in order to meet pre-defined targets.
Analyses (patterns in) client requirements and assesses the possibilities to deliver products and/or services to meet these requirements.
Highlights opportunities for cross selling and puts clients in contact with the relevant Markets Sales Advisor or relationship manager.
Provides required information for the Know Your Client procedure and ensures up to date records are maintained.
Ensures risk awareness as well as knowledge of risk management, procedures and systems are up to date at all time.
Strict adherence to all compliance and regulatory policies.
Initiates, organizes and hosts presentations or similar commercial activities towards (potential) clients regarding the opportunities within the Fixed Income product offering and its related topics.
Builds and maintains a network of internal and external specialists.
Builds and maintains an institutional client portfolio capable of generating revenues.
Working environment
The Institutional FID Sales team consists of 30 people located in four cities (Amsterdam, Frankfurt, Paris and London). Together we strive to make ABN AMRO the leading Dutch bank towards our financial institution clients.

Working at ABN AMRO means becoming even better at what you do. We understand clients, translate their ambitions into joint success and thus earn their trust. We want our clients to understand our products. It's why we sometimes say 'no' if the risk attached to a product is too great for the client. Serving the client's interests is also a question of offering – and communicating – a transparent range of products. Banking is our business, the world is our challenge.
Your profile
You truly enjoy building a business by driving innovation. With your vision, collaborative mindset, network and interpersonal skills, you naturally get everyone on board to create a competitive edge. You are obviously a seasoned merchant. With your commercial skills and inquisitive mind you easily build relationships and leave no opportunity uncovered. When it comes to important client decisions, one seat at the table always has your name on it.

Do you think you are a fit? Check your profile:
A Bachelor or Master's degree any additional professional qualification is a plus
Good understanding of Fixed Income & Derivative products
Preferably knowledge (or willingness to learn) of e-Platforms (e.g. Bloomberg, TradeWeb)
Preferably knowledge (or willingness to learn) on regulation (e.g. BMR, EMIR, pension reforms)
Fluent Dutch and English language skills (speech and writing)
Minimum of 5 years of relevant work experience in the Fixed Income & Derivative Space
We are offering
ABN AMRO offers an ongoing training curriculum that allows you to increase your technical knowledge, deepen your understanding of financial markets and products, and further develop your personal skills. You can help us build out ABN AMRO's position as a top house for financial institutions in the fixed income space.
We are offering:
•            The opportunity to be the best you can be and lots of room to grow both personally and professionally
•            Possibilities for flexible working hours and work from home are negotiable. We offer good facilities for remote working.
•            The opportunity to pro-actively work on your vitality and fitness
•            A personal development budget of EUR 1.000 per year
•            An annual public transportation pass or travel budget, depending on the function
•            A solid pension plan
Interested?
There are interested candidates, but you can still apply. For more information you can contact Etienne Broos (Head of FID Sales), email etienne.broos@nl.abnamro.com and Ramesh Gopisingh (Manager Fixed Income & Derivatives Sales Amsterdam) ramesh.gopisingh@nl.abnamro.com We look forward getting to know you.
Equal opportunities for all
The success of our organisation depends on the quality of our people and the ideas that they have. Truly surprising insights and innovative solutions for our clients result from an interplay of cultures, knowledge and experience. Diversity is therefore extremely important to our organisation. To ensure that everyone at ABN AMRO can develop their talents, we encourage an inclusive culture in which all colleagues feel engaged and appreciated.
Disclaimer external recruitment agencies
External recruitment agencies need to have a signed agreement with ABN AMRO BANK N.V., executed by a Talent Acquisition Specialist, when submitting a resume to a vacancy. In addition, a recruitment agency can only submit a resume when invited by a Talent Acquisition Specialist to join the search for a right candidate. All unsolicited resumes sent to us will be considered property of ABN AMRO BANK N.V. In this case, ABN AMRO will not be held liable to pay a placement fee.
Wie zijn je collega's?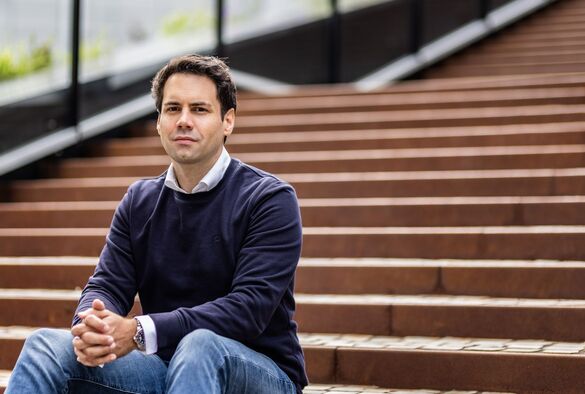 "Al op mijn 29ste mocht ik een Corporate Sales-desk in het buitenland opzetten. Dat is typisch ABN AMRO: je krijgt hier al op jonge leeftijd veel verantwoordelijkheid."
Lees het verhaal
Hoe ziet je sollicitatieprocedure eruit?
1

Reageer online op een vacature
2

Wij beoordelen je CV en motivatie
3

We nodigen je uit voor een interview
4

Daarna volgt mogelijk een assessment
5

Je ontvangt een aanbieding
6

Gefeliciteerd met je baan!
Ben jij uit het juiste hout gesneden?