We ask
An entrepreneurial attitude

A customer centric focus

Collaborative skills
We offer
Challenging work

Excellent secondary employment conditions

In charge of personal development
Why ABN AMRO?
Building a future proof bank

A diverse and inclusive culture

Extensive internal career opportunities
Executive Director, Leveraged Finance - London
At a glance
The Executive Director, Leveraged Finance is positioned in the Financing Solutions department and has a functional reporting line to the MD, Head of Leveraged Finance (in Amsterdam) and a functional reporting line to the MD, Head of Financing Solutions UK (whom reports to the Country Executive, UK).
ABN AMRO acts as a partner to support customers with integrated financial and strategic advice and solutions on the basis of a thorough knowledge of the customer, the sector in which the customer operates and international expertise.
Financing Solutions includes Leveraged Finance, Project Finance, Export Finance, and Syndicated Loan Origination, which in turn falls under Corporate Banking and exists alongside the Lending and Portfolio Management teams. Each of the Financing Solutions product areas and Lending teams supplies specific product expertise to the Client Service Teams (CST). CST will be compiled for each of the relevant customer within Corporate Banking. Each CST consists of representatives of Coverage (relationship responsible) and depending on the customer need, the expertise of the product sections within Financing Solutions; Corporate Finance (CF); Cash Management & Transaction Banking (TB) and Global Markets (GM).
Financing Solutions (FS) assists (corporate) customers in complex financing structures, which often include multiple products. FS offers a customer different capital and liquidity structures and advises on the best possible combination of credit products. The employees of Financing Solutions focus on the long-term relationship with the customer and aim to be the expert, involved and proactive trusted advisor who provides for the needs of the customer, in a simple, clear and transparent way. The duty of care and the customer's interests are most important. There is always thought and action from the perspective of the customer.

Your job
Lead the origination, structuring and execution of Leveraged Buy Out transactions for our Financial Sponsor clients in connection with existing clients and prospects in the UK and Europe as part of the bank's wider international and sector growth strategy.
Face in the market for the UK as the go to person for Financial Sponsor clients.
Maintain an excellent dialogue and relationships with advisors in the UK.
Continuously explore new opportunities in the context of market and regulatory developments so as to ensure ABN AMRO can deliver market leading Leveraged Finance solutions to our clients.
Work on a fully aligned basis with the Head of Financing Solutions UK to execute under the regional business plan, initially 'dual hatting' as both relationship manager and product expert while we grow the franchise. In addition, work closely with other Financing Solutions products on the ground (among others Loan Syndicate, Project Finance, FI Lending, Corporate Lending and Asset Based Finance) to maximise our efficiency and delivery to clients.
Identify and recognise cross-sell opportunities the build on the product strengths of ABN AMRO.
Selectively support the build-out and delivery of Leveraged Finance in selected sectors based on experience, relationships and track- record.
Closely cooperate with the team in Amsterdam to achieve a 'one-team, multiple locations', unified culture with a focus on further developing a fully international, best-in-class execution mentality and capability in the business. Focus on enhancing global internal cooperation to ensure the sharing of best practices.
Build and manage (over time) a regional team of 1-2 professionals in the UK as well as a virtual team between London/Amsterdam.
Ensure and maintain full compliance ('house in order') in recognition of both our internal and external regulatory requirements, ABN AMRO's moderate risk profile target and our social responsibilities.
Act as an effective 'first line of defence' in the UK (and abroad where applicable).
Maintain a portfolio relationship for the UK LBOs
Your working environment
ABN AMRO is an enterprising bank with a primary focus on Northwest Europe. We serve clients in the retail, private banking and corporate banking sectors. We are also present internationally in a number of specialist activities, such as Corporate and Commercial Banking, Asset Based Finance and Clearing.

At ABN AMRO we have a clear purpose: Banking for better, for generations to come. The shift towards sustainability is one of the most important challenges of our time. Supporting our clients at times that matter has always been our role and our responsibility. Together, we aim high and work towards lasting relationships that are relevant and responsible, both now and in the future. We want to be the bank that leads the way.

Our strategy goes far beyond financial value: we want to accelerate the transition to sustainability. We do this by supporting and advising our clients in order to facilitate their sustainability shift. Our commitment to clients, employees, investors and society calls for clear direction, focus and dedication.

We concentrate on our three strategic pillars:

• Support our clients' transition to sustainability
• Reinvent the customer experience
• Build a future-proof bank

Our strategy requires a culture of working together and permanent learning. It's only with this mindset that we unleash the best in ourselves to deliver a high standard of performance. ABN AMRO's culture is the catalyst for the evolution in which we find ourselves: our people are imaginative, trust each other and do just that little bit extra to help clients.

ABN AMRO UK is part of the Corporate Banking business line and operates the following businesses in the UK:

• Corporate and Institutional Banking which includes Corporate Banking, Clearing, Global Markets - Sales & Trading and Financial Institutions
• Commercial Banking which includes Asset Based Finance and International Desk, which provides transactional banking services

Our business lines are supported by a number of functions such as Risk, Compliance, Legal, IT, Finance (Including Tax), Business Management and Human Resources. We currently employ approx. 380 people in the UK.
Your profile
• Significant leadership experience in and in depth knowledge and proven track record in Leveraged Finance
• Proven 'trusted advisor' that can leverage strong relationships with Financial Sponsor clients and medium to large corporates in mid and large cap in the UK to support and accelerate our regional and sectoral growth initiatives
• Established network of Financial Sponsor clients relationships
• A capable 'first line of defence' and strong governance, oversight and interpersonal skills
• Entrepreneurial & energetic, self-starting and team-player
• High level of understanding of EBA and UK regulatory principles and rules and the practical application
• Global view on developments in the financial industry
• Credibility and gravitas to represent ABN AMRO in a professional way to internal and external stakeholders
• An ability to work with and manage expectations of senior management and key stakeholders
• Foreign languages - Dutch is considered an advantage, but not necessary

What we offer
Joining ABN AMRO means working on meaningful projects. Projects that have an impact on our clients. Working with a wide range of people with different backgrounds, opinions and ideas. In the UK, in the Netherlands or elsewhere in our international network. We offer an environment where you will be challenged on a daily basis - professionally as well as on a personal level - so that you can grow to become the professional you want to be.
Interested?
Are you interested? Please apply via the button below.

For more information please contact Niki Champion, Senior Resourcing Partner, UKrecruitment@uk.abnamro.com, +44 203 192 9342.
Wie zijn je collega's?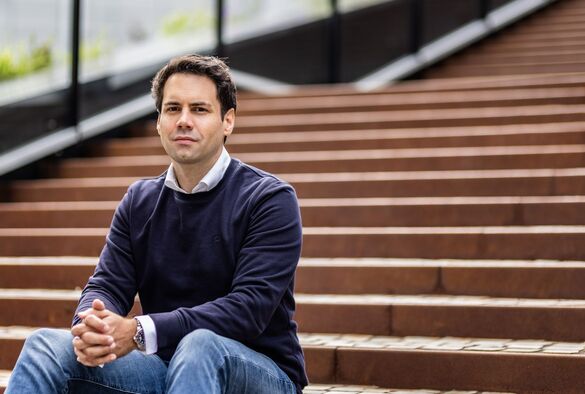 "Al op mijn 29ste mocht ik een Corporate Sales-desk in het buitenland opzetten. Dat is typisch ABN AMRO: je krijgt hier al op jonge leeftijd veel verantwoordelijkheid."
Lees het verhaal
Hoe ziet je sollicitatieprocedure eruit?
1

Reageer online op een vacature
2

Wij beoordelen je CV en motivatie
3

We nodigen je uit voor een interview
4

Daarna volgt mogelijk een assessment
5

Je ontvangt een aanbieding
6

Gefeliciteerd met je baan!
Ben jij uit het juiste hout gesneden?