We ask
An entrepreneurial attitude

A customer centric focus

Collaborative skills
We offer
Challenging work

Excellent secondary employment conditions

In charge of personal development
Why ABN AMRO?
Building a future proof bank

A diverse and inclusive culture

Extensive internal career opportunities
Operations Officer Collections
At a glance
ABN AMRO Asset Based Finance (ABF) located in Utrecht (the Netherlands), is internationally cross border organised and has operating companies in Germany, Belgium, France, the United Kingdom and the Netherlands. ABF is designed as a specialised business company within ABN AMRO. In the UK, the company consists of about 150 FTEs. In the UK, ABF is positioned between the high street banks and the independents, with the balance sheet and structuring capabilities of a high street bank and the flexibility of an independent.

ABF's market share in UK is just over 2%, with the ambition to grow to 5%.

ABF provides Leasing and Commercial Finance/Asset Based Lending solutions to customers in all segments: SME, corporates and large corporates including international clients. In the Netherlands this is mainly to ABN AMRO clients, in other countries this is mainly to non ABN AMRO clients. In the smaller end of the segments, the focus in on having a digital offering, with standardised and harmonised products and processes. In the larger segments, the focus
is on a coverage model, with a modular product offering that allows for bespoke solutions.


The Operations department is made up of the following teams; Collections, Operational Treasury, Data Management and Asset Administration. Operations plays an integral role in providing a variety of key support functions to front line and client facing services.
Your job
To provide clients of ABN AMRO with a high quality, effective and sensitive collections service which balances the needs of the Client together with the policy and guidelines of the company whilst balancing risk elements against service. The Operations Officer Collections will monitor and control a specific portfolio of clients ensuring both service levels and security are maintained.

Key result areas
Receivables – Ensures timely payment by debtors are made in accordance with team service level agreements, so that targets and deadlines are being met. Measures include;
DSO, 90+ Aged Debt and Cash Allocation
Risk Handling – recognises and flags up the (potential) risks in cases of departure from the standard procedures, proceeds accordingly and reports such cases to the Team Manager.
Improvement Proposals – identifies possible ways of improving processes and procedures.
Develops improvement proposals and is involved in their implementation.
Achieving and recording KPIs and KRIs
Your working environment
ABN AMRO is an enterprising bank with a primary focus on Northwest Europe. We serve clients in the retail, private banking and corporate banking sectors. We are also present internationally in a number of specialist activities, such as Corporate and Commercial Banking, Asset Based Finance and Clearing.

At ABN AMRO we have a clear purpose: Banking for better, for generations to come. The shift towards sustainability is one of the most important challenges of our time. Supporting our clients at times that matter has always been our role and our responsibility. Together, we aim high and work towards lasting relationships that are relevant and responsible, both now and in the future. We want to be the bank that leads the way.

Our strategy goes far beyond financial value: we want to accelerate the transition to sustainability. We do this by supporting and advising our clients in order to facilitate their sustainability shift. Our commitment to clients, employees, investors and society calls for clear direction, focus and dedication.

We concentrate on our three strategic pillars:

• Support our clients' transition to sustainability
• Reinvent the customer experience
• Build a future-proof bank

Our strategy requires a culture of working together and permanent learning. It's only with this mindset that we unleash the best in ourselves to deliver a high standard of performance. ABN AMRO's culture is the catalyst for the evolution in which we find ourselves: our people are imaginative, trust each other and do just that little bit extra to help clients.

ABN AMRO UK is part of the Corporate Banking business line and operates the following businesses in the UK:

• Corporate and Institutional Banking which includes Corporate Banking, Clearing, Global Markets - Sales & Trading and Financial Institutions
• Commercial Banking which includes Asset Based Finance and International Desk, which provides transactional banking services

Our business lines are supported by a number of functions such as Risk, Compliance, Legal, IT, Finance (Including Tax), Business Management and Human Resources. We currently employ approx. 380 people in the UK.
Your profile
Good standard of general education
Knowledge of business sales ledger administration
Knowledge of office programmes (Microsoft Office, Intermediate excel, Microsoft Teams)
Business to Business collections
Negotiating skills / Confident using the phone
Able to prioritise work
Willingness to learn
Identify and develop process improvements
What we offer
Joining ABN AMRO means working on meaningful projects. Projects that have an impact on our clients. Working with a wide range of people with different backgrounds, opinions and ideas. In the UK, in the Netherlands or elsewhere in our international network. We offer an environment where you will be challenged on a daily basis - professionally as well as on a personal level - so that you can grow to become the professional you want to be.
We have identified that the following types of flexible working may be suitable for this role in principle. Any requests will be determined in line with our Flexible Working Policy:

Type of Flexible Working May be Considered
Remote Working Hybrid
Part time Yes
Unpaid leave Yes
Staggered hours Yes
Interested?
Are you interested? Please apply via the button below.

For more information please contact Niki Champion, Senior Resourcing Partner, UKrecruitment@uk.abnamro.com, +44 203 192 9342.
Wie zijn je collega's?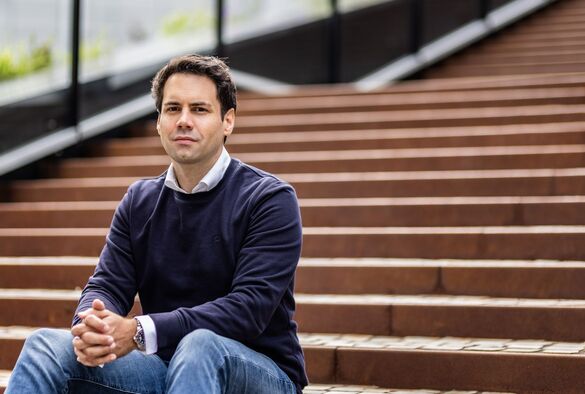 "Al op mijn 29ste mocht ik een Corporate Sales-desk in het buitenland opzetten. Dat is typisch ABN AMRO: je krijgt hier al op jonge leeftijd veel verantwoordelijkheid."
Lees het verhaal
Hoe ziet je sollicitatieprocedure eruit?
1

Reageer online op een vacature
2

Wij beoordelen je CV en motivatie
3

We nodigen je uit voor een interview
4

Daarna volgt mogelijk een assessment
5

Je ontvangt een aanbieding
6

Gefeliciteerd met je baan!
Ben jij uit het juiste hout gesneden?