We vragen
10+ jaar

Passie voor je vakgebied

Een toekomstgerichte mindset
We bieden
€ 6.408 - € 9.155 pm

Een uitgebreid arbeidsvoorwaardenpakket

Regie op eigen ontwikkeling
Waarom ABN AMRO?
Bouwen aan de bank van de toekomst

Een diverse en inclusieve cultuur

Veel interne doorgroeimogelijkheden
Expert Sustainability
At a glance
The Sustainability Expertise Team is looking for a flexible and hands-on team member who helps to further integrate sustainability into the DNA of our Corporate Bank. The focus will be on implementing the banks sustainability ambition within the Corporate Bank. The activities range from having strategic dialogue with our clients on sustainability, identifying and executing financing transactions that support our clients in their transition to more sustainable business models as well as support coverage bankers in sustainability risk due diligence process. You will be a member of a small team of sustainability experts within the Sustainability Expertise team and you will work closely with colleagues from various departments within the bank (Client Coverage, Financing Solutions, Risk, Sustainability Centre of Excellence).

If you like to pioneer and help ABN AMRO and its corporate clients to take steps on fast changing sustainability ground, this job is for you!
Your job
You'll be member of a small team of sustainability experts and work closely with Client Coverage, Financing Solutions, and Loan Markets to jointly develop sustainability expertise that is relevant for the sector and the banks' clients.


Responsibilities:
As the sustainability expert within a deal team, you contribute to client pitches and when mandated sustainability coordinator, you lead the execution of sustainability linked transactions; you advise clients on suitable sustainability KPIs and targets to be included in sustainability linked facilities and you interact with other lenders on the relevance and ambition of the agreed sustainability KPIs;
You identify knowledge and information needs with front office staff and you develop and implement a plan to address these. With your team you develop a view on the transition needs, targets and possibilities within a sector and you align these with front office staff and 2nd line stakeholders. Together with the team you support the implementation of the sustainability risk strategy and policies of the bank;
Together with the team you support the development of sustainability tools and guidelines, processes and products in order to support the businesses comply with the bank's internal and external commitments to sustainability;
You provide expert input to the Sustainability Expertise colleagues and change and implementation managers who focus on implementing the increasing data requirements from a strategic and regulatory viewpoint and help to ensure that changes are implemented in a manner that inspires, that fits in the way of working towards clients and that meets the regulatory requirements at the same time;
Together with the team leads and their team members, you pro-actively review and provide input on the sustainability strategy and risk appetite of the Corporate Bank.
Working environment
You will be part of the CB Sustainability Expertise department and will be part of a team dedicated to implementing the banks sustainability ambition in a number of Corporate Bank client sectors. The department has a strong focus on facilitating the dialogues on sustainability risks and opportunities with clients and internal stakeholders, growing the Sustainable Finance Portfolio such as Sustainability-Linked and Green Loans, inspiring our internal stakeholders and developing expertise on relevant sustainability topics and initiatives.
Your profile
You have a strong affinity with working and interacting with client, understanding of financial products and knowledge of and interest in sustainability.
Master's Degree in Economics, (Sustainable) Finance, Law, Environmental Resource Management or comparable level
Minimum of 7-10 years working experience in a banking environment
Knowledge of the way of working within Corporate Banking, experience with interacting with clients and various stakeholders
Experience and ability to interact with senior client representative and senior management
Experience with (structuring of) sustainability linked loans and Green loans
Knowledge: sustainability risk and regulations, sustainable finance, banking product and good understanding of financial institutions and risk management; strong written and verbal communication skills in English
Proactive and hands-on. A good networker and team player, whilst also able to work autonomously, enthusiastic and solution driven.
We are offering
In this role you will learn a lot: in depth knowledge about several sustainability topics and the continuously changing landscape of sustainability, about the Corporate Bank's sustainability strategy and about working on change in a large organisation. Your working environment that is growing and developing: your activities might fluctuate and will often be novel, you will also be able to pioneer and help the bank progress. You will work with a team of experienced and enthusiastic colleagues and will be reporting to the Sector Cluster Team Lead.

We are also offering:

•            The opportunity to be the best you can be and lots of room to grow both personally and professionally
•            Possibilities for flexible working hours and work from home are negotiable. We offer good facilities for remote working.
•            The opportunity to pro-actively work on your vitality and fitness
•            A personal development budget of EUR 1.000 per year
•            An annual public transportation pass
•            A solid pension plan
Interested?
If you are interested please contact Lissa van der Heijden (lissa.van.der.heijden@nl.abnamro.com) or Carolien Peeters (carolien.peeters@nl.abnamro.com).
Equal opportunities for all
The success of our organisation depends on the quality of our people and the ideas that they have. Truly surprising insights and innovative solutions for our clients result from an interplay of cultures, knowledge and experience. Diversity is therefore extremely important to our organisation. To ensure that everyone at ABN AMRO can develop their talents, we encourage an inclusive culture in which all colleagues feel engaged and appreciated.
Disclaimer external recruitment agencies
External recruitment agencies need to have a signed agreement with ABN AMRO BANK N.V., executed by a Talent Acquisition Specialist, when submitting a resume to a vacancy. No unsolicited services or offers, please.
Wie zijn je collega's?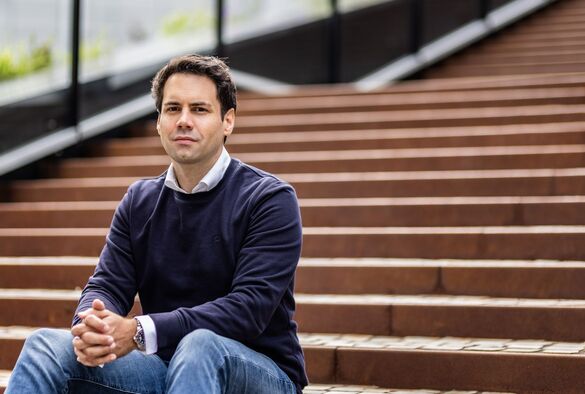 "Al op mijn 29ste mocht ik een Corporate Sales-desk in het buitenland opzetten. Dat is typisch ABN AMRO: je krijgt hier al op jonge leeftijd veel verantwoordelijkheid."
Lees het verhaal
Hoe ziet je sollicitatieprocedure eruit?
1

Reageer online op een vacature
2

Wij beoordelen je CV en motivatie
3

We nodigen je uit voor een interview
4

Daarna volgt mogelijk een assessment
5

Je ontvangt een aanbieding
6

Gefeliciteerd met je baan!
Ben jij uit het juiste hout gesneden?