Financial Restructuring & Recovery Officer
At a glance
As part of the wider Risk Management division, the FR&R Department manages customers with increased risk profiles and customers who cannot meet their payment obligations and manages a watch and oversight process to identify
those customers in the portfolio who are likely to be unable to meet their payment obligations in the next 12 months. FR&R's primary objective is to provide the best possible results for both the customer and ABF. FR&R work to ensure that customers remain financially healthy and that any (potential) losses for ABF are limited. They also work to prevent any (possible) reputational damage.

To achieve this, cooperation with various parties is necessary, internally these include Sales, Legal, Asset Management, Credit and externally, Administrators, Lawyers Insolvency Practitioners and collection agencies.
Your job
Managing FR&R customers, evaluating inherent risks and managing these accordingly for the development, maintenance and quality of the whole portfolio. To adhere to the FR&R policy, local regulations and legislation and
client interests to optimise the profitability of the portfolio.

The FR&R Officer, Asset Based Finance UK has the following responsibilities
Management of UK FR&R files (Direct & Mid-Market – across all business lines <£5mn facilities )
Visit UK customers with an increased risk profile.
Guiding and, if necessary, restructuring/unwinding exposures with an increased risk profile.
Assessing the collateral, legal and financial structure of relationships with an increased risk profile.
Develop restructuring proposals for customers that you accompany.
Drawing up treatment plans in compliance with legal provisions and relevant directives.
Present analysis to the FR&R Committee(s) and gives additional explanations or answers to the questions of the Committee members
Conducting negotiations with stakeholders about the measures to be taken.
Ensure the approval of treatment plans and/or restructuring proposals.
Ensure the implementation and monitoring of treatment plans/agreements.
Continuous responsibility for the management of all assigned customers.
Managing/coordinating internal and external advisors.

Watch & Oversight
Maintain a process to identify underperforming and increased risk customers in the portfolio to ensure that the appropriate customer classification between FR&R / Watch / Regular business can be maintained accurately.

Technical skills:
Strong understanding of UK insolvency rules and practices.
Displays a high level of commercial acumen, and an awareness of the key drivers of corporate failure or underperformance
Proficient in detailed financial and commercial analysis and able to identify potential areas of sensitivity
Able to identify key issues on assignments and suggest workable solutions
Experienced in presenting findings clearly in reports and other deliverables to clients
Appreciation of the risks inherent in advising distressed businesses and their stakeholders.

Client responsibilities:
Prepares analysis and reports supporting the restructuring assignment as required to be delivered to clients and other parties
Develops and maintain productive working relationships with management and workforce of the target business as well as its stakeholders
Strong communication skills, building effective relationships at all levels

Knowledge and recommendations:
Transfers knowledge to colleagues and, using his/her experience and vision of FR&R, advises them so that they can perform their duties more professionally.
Is responsible for building up knowledge of sectors, local markets and country risks.
Discusses outcomes of FR&R activity and learnings with the wider UK team.
Puts forward proposals to update and revise the FR&R & Credit policy.
Assist in training of new colleagues.
Your working environment
ABN AMRO is an enterprising bank with a primary focus on Northwest Europe. We serve clients in the retail, private banking and corporate banking sectors. We are also present internationally in a number of specialist activities, such as Corporate and Commercial Banking, Asset Based Finance and Clearing.

At ABN AMRO we have a clear purpose: Banking for better, for generations to come. The shift towards sustainability is one of the most important challenges of our time. Supporting our clients at times that matter has always been our role and our responsibility. Together, we aim high and work towards lasting relationships that are relevant and responsible, both now and in the future. We want to be the bank that leads the way.

Our strategy goes far beyond financial value: we want to accelerate the transition to sustainability. We do this by supporting and advising our clients in order to facilitate their sustainability shift. Our commitment to clients, employees, investors and society calls for clear direction, focus and dedication.

We concentrate on our three strategic pillars:

• Support our clients' transition to sustainability
• Reinvent the customer experience
• Build a future-proof bank

Our strategy requires a culture of working together and permanent learning. It's only with this mindset that we unleash the best in ourselves to deliver a high standard of performance. ABN AMRO's culture is the catalyst for the evolution in which we find ourselves: our people are imaginative, trust each other and do just that little bit extra to help clients.

ABN AMRO UK is part of the Corporate Banking business line and operates the following businesses in the UK:

• Corporate and Institutional Banking which includes Corporate Banking, Clearing, Global Markets - Sales & Trading and Financial Institutions
• Commercial Banking which includes Asset Based Finance and International Desk, which provides transactional banking services

Our business lines are supported by a number of functions such as Risk, Compliance, Legal, IT, Finance (Including Tax), Business Management and Human Resources. We currently employ approx. 380 people in the UK.
Your profile
Experience in a similar position.
Relevant insolvency experience.
Proven financial industry working experience.
Knowledge of Asset Based Finance & leasing market products and activities.
Experience in structuring of deals.
Ability to interpret financial statements.
Advanced understanding of financial ratios and business principles and strong analytical skills with an ability to question assumptions.
Advanced knowledge of credit analysis and lending/leasing functions.
Advanced knowledge of typical equipment finance and bank products and services.
Highly motivated and ambitious, with high energy levels and ability to prioritise and multi-task effectively.
Eagerness to learn and self-develop.
Solution driven and can-do mentality.
Good/strong Risk knowledge.
Ability to work under pressure and meet deadlines
What we offer
Joining ABN AMRO means working on meaningful projects. Projects that have an impact on our clients. Working with a wide range of people with different backgrounds, opinions and ideas. In the UK, in the Netherlands or elsewhere in our international network. We offer an environment where you will be challenged on a daily basis - professionally as well as on a personal level - so that you can grow to become the professional you want to be.
We have identified that the following types of flexible working may be suitable for this role in principle.

Any requests will be determined in line with our Flexible Working Policy.


Type of Flexible Working Likely to be suitable
Remote Working Yes
Staggered hours Yes
Interested?
Are you interested? Please apply via the button below.

For more information please contact Niki Champion, Senior Resourcing Partner, UKrecruitment@uk.abnamro.com, +44 203 192 9342.
Wie zijn je collega's?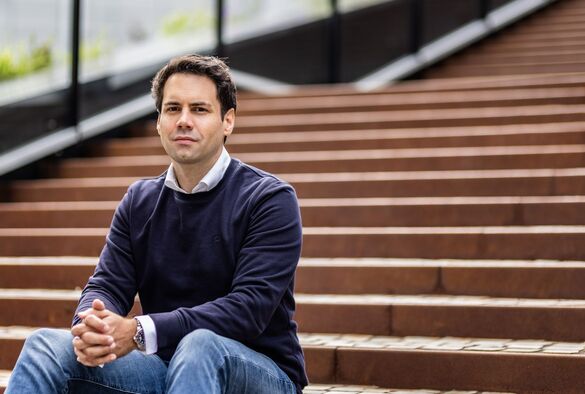 "Al op mijn 29ste mocht ik een Corporate Sales-desk in het buitenland opzetten. Dat is typisch ABN AMRO: je krijgt hier al op jonge leeftijd veel verantwoordelijkheid."
Lees het verhaal
Hoe ziet je sollicitatieprocedure eruit?
1

Reageer online op een vacature
2

Wij beoordelen je cv en motivatie
3

We nodigen je uit voor een of meerdere interview(s)
4

Daarna volgt mogelijk een assessment
5

Je ontvangt een aanbieding
6

Gefeliciteerd met je baan!
Ben jij uit het juiste hout gesneden?