Senior Data Analyst
At a glance
The world is changing fast and our role as a gatekeeper is changing with it. As reflected in our purpose, 'Banking for better, for generations to come', we're committed to a sustainable, stable and safe financial system. This makes tracking down financial crime one of our priorities. But that's not news to you, of course. You know what's happening in the world. You're socially engaged, you're an ethical person and you're keen on innovation. You want to do right by clients, the bank and society at large. That's your mission. In the Detecting Financial Crime (DFC) unit, we've brought together every activity the bank undertakes to detect financial crime, whether at our Dutch offices and branches, our subsidiaries in the Netherlands and elsewhere, or our challenger banks. By combining knowledge, expertise, and joining forces, we can do a better job of keeping our banking systems free of financial crime and embracing new developments. The advancing technology is both an opportunity and a threat. Not only does it help us to improve our investigative work, but it also increases the sophistication of organised crime. In short, detecting financial crime is an ongoing process that makes the highest possible demands of our expertise and alertness every single day.
Your job
Within DFC, the Process Design team is responsible for process changes and other complex requests within the DFC domain. DFC and the three Client Units work closely together to manage the money laundering, terrorist financing and sanctions risks we identify as a bank. In your role as senior data analyst you are part of the I&D Data analytics - Process Design team (part of DFC). The I&D Data analytics team consists of about 10 members. Team members have a background in data analytics, project management, DFC subject matter and business expertise. You will work closely with colleagues in the various client units and with colleagues in other teams in DFC. Therefore, you collaborate with stakeholders on a global level, including second line parties. Through your high-impact analyses, you will contribute to a future-proof foundation for efficient and effective data analytics & help drive process improvements in DFC. Are you a senior data analyst who likes to take initiative and venture off the beaten track? What are you looking for in the next stage of your career? Turn your goals into reality and work on your professional and personal development.
Working environment
Financial crime is a hot topic. The media seems to report on money laundering or terrorist financing just about every day. And these are just two of the types of crime we focus our investigative efforts on. The social relevance of our work is just as important to us. We mean this to refer to our role as a gatekeeper, which has a bearing on the security and stability of society, and – by extension – on the security and stability of our clients. All of this impacts our relevance as an organisation and our continuity. At DFC, we attach great value to linking up the interests of our clients, the bank and society at large. Established a few years ago, DFC is further maturing. The fact that the department is in transition will give extra depth to your role. In this dynamic environment, you'll have the opportunity to help the department get to the next stage and initiate improvements. DFC has six different units, each of which has multiple teams; there are data analysts, operational specialists, lean consultants, management consultants and subject matter experts. Thanks to our multidisciplinary approach, you'll learn about different disciplines. And the fun part is: you'll get to interact with the entire bank.
Your profile
Fitting DFC, you are a person with integrity and innovative by character, with an interest in society. You will settle for nothing less than the right thing for our clients, the bank and society as a whole.
Our success is driven by smart thinking combined with a hands-on, can-do mentality. Your track record shows:
You're enterprising, creative and a team player; you don't mind a changing environment and you thrive on taking initiative.
You know how to tackle complex problems using data and know how to clearly communicate the story behind the data to stakeholders.
You like to take the lead in data analysis requests and you are comfortable with giving advice to non-technical stakeholders on how to achieve the best results possible based on the available data and business requirements.
You are able to write high-quality and efficient PySpark code and have experience with Databricks
You have knowledge of data management, data architecture and data processing
You are able to coach and support the junior and medior data analysts in the team
You have at least five years of work experience in data analytics or related role
The following is a pre:
Knowledge of and experience with Process Mining (specifically Celonis).
Knowledge of or (working) experience in data or software engineering
Experience in the anti-money laundering domain.
We are offering
An opportunity to be part of a highly visible team within DFC and the bank
A challenging job in which you own your success and have a direct impact on team results
A position in which you can grow, both personally and professionally
In addition,
The opportunity to pro-actively work on your vitality and fitness
A supplementary benefit budget of 11%, which you can spend on additional fringe benefits
A personal development budget of EUR 1.000 per year
An annual public transportation pass
A solid pension plan
Interested?
If you are interested, please apply online. We are looking forward to meet you! For more information, please contact Peter Fijnvandraat (peter.fijnvandraat@nl.abnamro.com ; +31 (0) 629011869).
Equal opportunities for all
The success of our organisation depends on the quality of our people and the ideas that they have. Truly surprising insights and innovative solutions for our clients result from an interplay of cultures, knowledge and experience. Diversity is therefore extremely important to our organisation. To ensure that everyone at ABN AMRO can develop their talents, we encourage an inclusive culture in which all colleagues feel engaged and appreciated.
Disclaimer external recruitment agencies
External recruitment agencies need to have a signed agreement with ABN AMRO BANK N.V., executed by a Talent Acquisition Specialist, when submitting a resume to a vacancy. No unsolicited services or offers, please.
Wie zijn je collega's?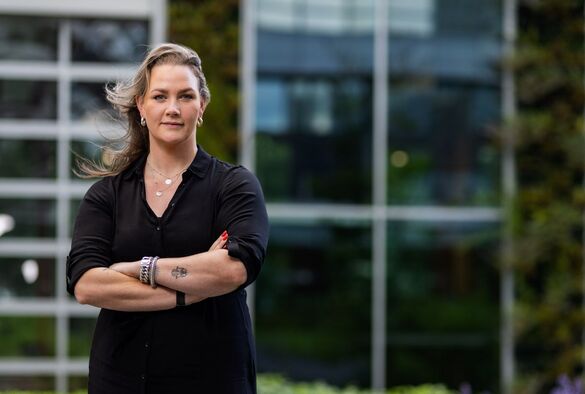 "Witwassen, corruptie: financieel-economische criminaliteit gaat altijd gepaard met slachtoffers. Hoe beter we dit bestrijden, hoe veiliger we de samenleving kunnen maken."
Lees het verhaal
Hoe ziet je sollicitatieprocedure eruit?
1

Reageer online op een vacature
2

Wij beoordelen je cv en motivatie
3

We nodigen je uit voor een of meerdere interview(s)
4

Daarna volgt mogelijk een assessment
5

Je ontvangt een aanbieding
6

Gefeliciteerd met je baan!
Ben jij uit het juiste hout gesneden?