We ask
An entrepreneurial attitude

A customer centric focus

Collaborative skills
We offer
Challenging work

Excellent secondary employment conditions

In charge of personal development
Why ABN AMRO?
Building a future proof bank

A diverse and inclusive culture

Extensive internal career opportunities
Relationship Manager, Corporate and International
At a glance
The Commercial Department (ComFin) consists of Sales (Business Development Managers), Relationship Management, Asset Management, Commercial Support and Project Management. The department supports all clients across the ACF spectrum. The Sales team is responsible for new business development, predominantly via introducers. The Relationship Managers nurture the relationship with existing customers and support the Sales team on new transactions. The Asset Managers are responsible for monitoring the assets in the facilities with customers. The Commercial Support team supports both the Sales team and the Relationship Managers. The Project Management team is responsible for the successful delivery of projects relating to the Commercial Department in an agile way. The Commercial Department is also responsible for KYC activities.
Your job
A Relationship Manager is the Risk Owner of their assigned portfolio. They are responsible for the relationship management across that portfolio by acting as discussion partner for the director/owner and/or controller of each Client and providing insight and guidance in connection with financial and business issues, striking a careful balance between the commercial interests and ABF's risk policy and for cross selling of products and services within the relevant segment. The RM focuses on the long term, pursuing the commercial consolidation and expansion of client relationships while seeking to strike an appropriate balance between the interests of the client and ACF.

The Relationship Manager has the following responsibilities:

• Relationship management of client facilities including: Bilateral facilities; Syndications (acting either as facility Agent or Participant); Multi-Local; Back-to-Back; Receivable Purchase (Off-Balance sheet);
• Managing 15-25 clients within Corporate (£20mln - £250mln turnover) and International (>£250mln) segments with income =>£50k per annum
• To aid client retention and portfolio growth through strong collaborative relationships with them and addressing the client's needs utilising the ABF product suite through a deep understanding of their business and the marketplace whilst balancing the needs and interests of ABF
• Assisting with on-boarding of new clients alongside Business Development colleagues and attracting new to ABN AMRO clients through leveraging relationships with clients and Key Business Introducers alike
• Daily Monitoring of portfolio risk via a number of channels and reporting to Credit Risk where risk issues are identified
• Ensuring clients remain compliant with credit approvals and the Debts Purchase Agreement as appropriate.
• Proactive collaboration with Asset Management on both risk and retention issues ensuring good communication channels are maintained
• Maintaining and proactively managing client facility plans & proposals for retention and future growth opportunities
• Maintaining client profitability through active price / fee management
• Building relationships both with clients and external advisors (networking) to achieve excellent client satisfaction and improve the Net Promoter Score
Management and Leadership
• Promote a culture of good conduct by demonstrating and communicating the expected levels of behaviour and integrity by encouraging a speak up culture, compliance and completion of all mandatory/regulatory training courses
• Demonstrate and promote the expected levels of behaviour and employee integrity by showing strong adherence to moral and ethical principles and internal rules, policies and procedures
• Create an open and safe working environment which is free from bias and where employees respect the opinions of others, feel free to give voice to their values, report and learn from mistakes by proactively asking for feedback and raise issues or concerns without fear of negative consequences
• Assess periodically their overall skill set and identify relevant areas for training and development needs
Your working environment
ABN AMRO is an enterprising bank with a primary focus on Northwest Europe. We serve clients in the retail, private banking and corporate banking sectors. We are also present internationally in a number of specialist activities, such as Corporate and Commercial Banking, Asset Based Finance and Clearing.

At ABN AMRO we have a clear purpose: Banking for better, for generations to come. The shift towards sustainability is one of the most important challenges of our time. Supporting our clients at times that matter has always been our role and our responsibility. Together, we aim high and work towards lasting relationships that are relevant and responsible, both now and in the future. We want to be the bank that leads the way.

Our strategy goes far beyond financial value: we want to accelerate the transition to sustainability. We do this by supporting and advising our clients in order to facilitate their sustainability shift. Our commitment to clients, employees, investors and society calls for clear direction, focus and dedication.

We concentrate on our three strategic pillars:
Support our clients transition to sustainability
Reinvent the customer experience
Build a future-proof bank

Our strategy requires a culture of working together and permanent learning. It's only with this mindset that we unleash the best in ourselves to deliver a high standard of performance. ABN AMRO's culture is the catalyst for the evolution in which we find ourselves: our people are imaginative, trust each other and do just that little bit extra to help clients.

ABN AMRO UK is part of the Corporate Banking business line and operates the following businesses in the UK:
Corporate and Institutional Banking which includes Corporate Banking, Clearing, Global Markets - Sales & Trading and Financial Institutions
Commercial Banking which includes Asset Based Finance and International Desk, which provides transactional banking services

Our business lines are supported by a number of functions such as Risk, Compliance, Legal, IT, Finance (Including Tax), Business Management and Human Resources. We currently employ approx. 380 people in the UK.
Your profile
• Relationship Management experience within Invoice Finance and/or wider Commercial Lending is essential
• This is an opportunity for an ambitious, career minded commercial financial professional looking to progress their career with a forward thinking international business
• Demonstrated deep understanding of Receivables Finance and knowledge of ABL products
• UK Finance IF/ABL Certificate or higher equivalent
• Knowledge of the strategy, products and services of ABF and the specific segments in which the work is being executed is desirable
• Highly self-motivated with excellent interpersonal skills to build and maintain mutually beneficial relationships with Clients, Key Business Introducers, and other key stakeholders
• To work collaboratively with your colleagues within Sales, Risk and Operations to ensure effective delivery of client service throughout the lifetime of the client
• To develop and maintain the company's brand and business reputation in the local area
• Strong financial and analytical skills
• Proven credit and deal structuring skills – with the ability to articulate / write concise and well-reasoned applications and prudently control lending book
• Undertake client visits
• Results orientated
• Resilience
• Team Player
What we offer
Joining ABN AMRO means working on meaningful projects. Projects that have an impact on our clients. Working with a wide range of people with different backgrounds, opinions and ideas. In the UK, in the Netherlands or elsewhere in our international network. We offer an environment where you will be challenged on a daily basis - professionally as well as on a personal level - so that you can grow to become the professional you want to be.
We have identified that the following types of flexible working may be suitable for this role in principle.
Any requests will be determined in line with our Flexible Working Policy:
Type of Flexible Working Likely to be suitable
Remote Working Yes

Interested?
Are you interested? Please apply via the button below.

For more information please contact Niki Champion, Senior Resourcing Partner, UKrecruitment@uk.abnamro.com, +44 203 192 9342.
Wie zijn je collega's?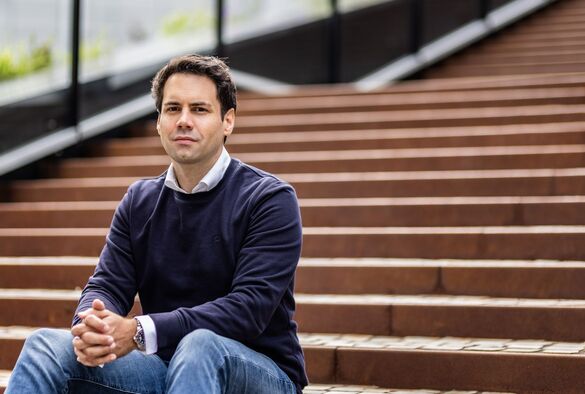 "Al op mijn 29ste mocht ik een Corporate Sales-desk in het buitenland opzetten. Dat is typisch ABN AMRO: je krijgt hier al op jonge leeftijd veel verantwoordelijkheid."
Lees het verhaal
Hoe ziet je sollicitatieprocedure eruit?
1

Reageer online op een vacature
2

Wij beoordelen je cv en motivatie
3

We nodigen je uit voor een of meerdere interview(s)
4

Daarna volgt mogelijk een assessment
5

Je ontvangt een aanbieding
6

Gefeliciteerd met je baan!
Ben jij uit het juiste hout gesneden?